Des Hillman feared Blaenau Gwent council 'takeover'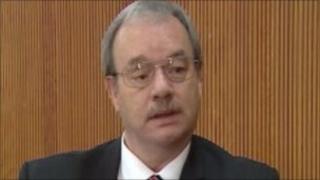 The outgoing leader of Blaenau Gwent council says he feared ministers would step in to end political infighting and take over the running of the authority.
Independent councillor Des Hillman claims the Welsh government wants to see a Labour-controlled administration.
Councillors meet on Friday to decide future political arrangements.
The Welsh government denied claims it was targeting independent--run councils and said it hopes "constructive leadership" can be restored quickly.
Mr Hillman has announced he will be standing down after weeks of wrangling.
He said there had been "skulduggery" and "dirty politics" in the authority's ruling group.
In an interview with BBC Wales' Dragon's Eye he said he had been trying to ensure stability at the council.
He said: "I was worried that the political governance or unrest would be a cause to allow the minister to send in his commissioners - a full team of commissioners like Anglesey."
In March, Local Government Minister Carl Sargeant sent in a team of commissioners to run Anglesey council after years of political infighting.
Mr Hillman said: "I didn't want that to happen here at Blaenau Gwent."
The council has been in the spotlight since July after a report by the education inspectorate, Estyn, said its schools services were failing.
Education Minister Leighton Andrews appointed commissioners to take charge of its education department.
"Car crash"
Mr Sargeant also triggered a Wales Audit Office investigation into general governance at Blaenau Gwent, which is due to report this month.
Mr Hillman claims the local authority has come under "extreme" pressure from ministers.
"I feel that the assembly - or their ministers - want Blaenau Gwent back under Labour and they will use any excuse to make that happen," he added.
Blaenau Gwent Labour MP Nick Smith said the council has been "a political car crash" in recent months.
"Blaenau Gwent borough council is a £100m business," he said.
"It's the biggest employer in the borough. Local people rely on good services. That's what they deserve, not excuses."
The leader of the Labour group on the council, Hedley McCarthy, has pledged to do what he can to help ensure "stability" until next May's council elections.
On Friday, a full meeting of the independent-controlled council will decide its future political management.
A Welsh government spokesperson said: "We hope that stable and constructive leadership of the council can be restored as soon as possible.
"We cannot speculate on Councillor Hillman's reasons for resigning but clearly a service failure on the scale we have seen in Blaenau Gwent should prompt all responsible leaders to consider their positions.
"We refute any suggestion that independent run councils are being targeted by the Welsh government. There is no bias, nor will there ever be."