Barry power station faces closure, says Prospect union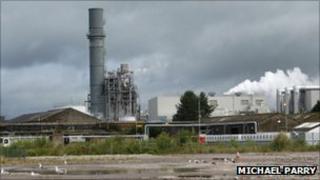 Barry power station in the Vale of Glamorgan is set to close with the loss of 60 jobs, a trade union claims.
Centrica has told staff of plans to cut up to 100 of its 285 power station jobs by closing gas-fired plants at Barry and Kings Lynn, Norfolk by June 2012.
Mike Macdonald of the union Prospect warned that station closures could also result in higher prices for customers.
The company said it would open consultations in November before taking a final decision next year.
Barry power station was built by the AES Corporation and opened in September 1998, and bought by Centrica in July 2003 for £39.7m.
Sarwjit Sambhi, Centrica's director for power generation, said higher gas prices and falling demand had left the company with excess capacity.
'Difficult decision'
"Our older, less efficient, power stations are facing very challenging economic conditions as a result of high gas input prices," he said.
"As we do not expect the situation to improve in the medium term, we are looking at options for our generation fleet, including Barry.
"Barry will continue to operate into next year and it will also bid for a contract to provide peak power. If this was successful it would preserve the plant.
"But if it is unsuccessful we may have to take the difficult decision to close the plant next year.
"We understand this is an uncertain time for employees and we are ensuring they're getting all the support they need, both now and in the future."
Mr Macdonald said the long-term impact of station closures would be bad news for customers as well as workers set to lose their jobs.
He said: "The structure of the energy markets means at present there is little financial incentive for Centrica to operate its gas-fired plant.
"But with the closure of several large coal-fired power stations between now and the end of 2015, there is a good chance demand will outstrip supply, leaving Britain facing significant price increases at a time when electricity prices have already reached record highs."
Mr Macdonald called on the Department of Energy and Climate Change (DECC) to step in and prevent the loss of highly-skilled jobs.
"Due to the ineffective structure of the market, our members will lose their jobs, the country will lose valuable technical skills and, from 2015, prices will rise to even higher levels," he said.
"We hope that DECC and Centrica will consider alternatives that retain skills and technological expertise in areas hit by economic contraction."