Ysbyty Cwm Rhondda injuries unit to shut temporarily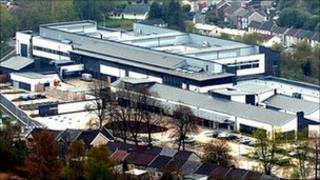 The minor injuries unit at Ysbyty Cwm Rhondda is closing temporarily on Wednesday due to staff shortages at another hospital.
Cwm Taf Health Board is moving nurses from the £36m building, near Tonypandy, to accident and emergency at the Royal Glamorgan hospital, near Llantrisant.
The board said the problem was not down to money but a difficulty in recruiting the right people.
It is unclear when the unit at Ysbyty Cwm Rhondda will reopen.
The Royal Glamorgan opened in 1999, replacing the East Glamorgan hospital in Pontypridd, while Ysbyty Cwm Rhondda opened last year.
Cwm Taf Health Board said it was taking positive action to address "short-term medical staffing challenges" in A&E at the Royal Glamorgan, and was finding it hard to recruit the right people.
'Fill gaps'
In a statement, the board said: "Cwm Taf health board along with other health boards in Wales are experiencing difficulties in filling medical staffing vacancies in its accident and emergency departments.
"This is not related in any way to money, but is as a consequence of a lack of suitably qualified candidates for the number of jobs needed to be filled."
The health board said it regularly used doctors to "fill gaps" to provide some degree of continuity, but this was not a long-term solution.
It added that a number of overseas doctors had been appointed following a recruitment drive, but immigration requirements meant they would not be ready to start until early next year.
"From October we have a further two doctors leaving the Royal Glamorgan hospital accident and emergency department," the statement added.
"This unfortunately brings us to the point where we need to take action to ensure that the quality of care is maintained and clinical safety is assured.
"Based on advice from clinical staff the most clinically appropriate short-term solution is to move our experienced advanced emergency nurse practitioners who are currently based in Ysbyty Cwm Rhondda to the accident and emergency department at the Royal Glamorgan hospital."
The minor injuries unit will close at 1700 BST on Wednesday.