Aamir Siddiqi murder: Man, 33, arrested in India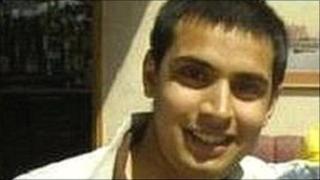 A man wanted by police in connection with the murder of a Cardiff teenager has been arrested in India.
Aamir Siddiqi, 17, was killed at the front door of his home in 2010.
South Wales Police said Mohammed Ali Ege has been arrested on suspicion of conspiracy to commit murder.
Two men are standing trial for Aamir's murder. The jury was told of the development and the case was adjourned for the day.
Police said Mohammed Ali Ege, 33, orginally from Riverside, Cardiff was arrested on Monday.
A police statement said officers are liaising with Indian authorities in relation to extradition processes.
The trial of Ben Hope, 38, and Jason Richards, 37, who deny murder and attempted murder, was adjourned on Tuesday.
They are accused of killing Aamir at his family home in Roath in April 2010.