Ban 'ends' Blackwood car cruising problem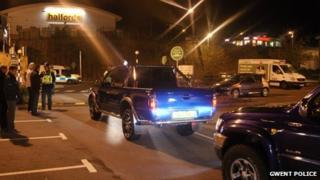 Banning more than 100 drivers from a supermarket car park has ended years of anti-social car cruising in a south Wales valleys town, claim police.
Blackwood, in Caerphilly county, was once the second most popular UK destination for the activity, sometimes attracting 400 vehicles in a night.
A crackdown has targeted scores who gathered at an Asda store on Thursdays.
Gwent Police Supt Jon Burley said: "The problem has been here the best part of 22 years. It wasn't an overnight fix."
Attempts to curb the problem led to a series of roadside enforcement checks over the years, which found that cars were coming from as far as London, Manchester and Cornwall.
Safety message
Since September 2009, locked gates have closed off the town centre every Thursday night, the most popular evening for drivers to descend on the car parks of the Asda store, McDonalds and KFC, and council offices.
On the night the ban was brought in, police led a final cruise around the roads as a way to engage with the drivers and promote road safety and "responsible car use".
Supt Burley said: "It's not about stopping people enjoying their vehicles - even my daughter has a car with a bass box.
"It's about encouraging them to think of other people when they do.
"The problem that we've dealt with now is far less than it was when we started doing this. It was massive.
"I think because of the way the town was laid out, the car parks enabled a showcase for the vehicles. Then you had a cluster of fast food cutlets where they could get something to eat.
"They would drive through the town, the girls would come in to town to meet the boys and cheer them on as they drove through. It featured in some of the cruising magazines and websites."
Wheel spinning
The 18-month High Street ban from 7am to 4am left the task of the tackling the car cruisers still using the Asda car park, said Supt Burley.
He said: "It can be quite intimidating when there is a high concentration of vehicles, with people wheel spinning, shouting and showing off.
"People [using the store] just felt unsafe. They couldn't park next to the store and had to run the gauntlet of these people and their vehicles."
In one night last month, after the supermarket chain installed Automatic Number Plate Recognition (ANPR) cameras, 85 banning notices were issued in an operation that saw the police helicopter overhead.
Warned drivers face a £60 fine if they return to that store or go to any Asda car park which has ANPR cameras.
The store issued 22 banning notices the following week, with numbers down to single figures in the two weeks since then.
Supt Burley said: "It's a winning formula. I think we've cracked it in term of the anti-social behaviour.
"Obviously there's always the opportunity for the cruisers to displace to somewhere else. We still think it's important to engage with them."
Gwent Police had received requests from other police forces on the strategy, he added.
'Big numbers'
Caerphilly Coun Nigel Dix said the Asda car park was the last redoubt available to the car cruisers in the locality.
He said: "I believe we have cracked it, fingers crossed. It's taken us a while to get there, but it's working.
"There are no real big areas left where they can meet up in big numbers."
Asda have been asked to comment.