70 Tata Steel Construction Products jobs go at Llanwern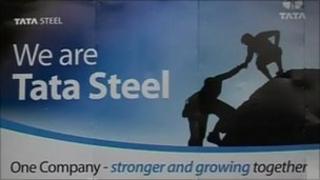 Tata Steel is cutting 70 jobs at its Llanwern site in Newport.
The company said it decided "with great regret" to close the Tata Steel Construction Products (TCSP) business amid the economic downturn.
The union Community said it was another case of a good business closing because of the desperate state of the economy.
The molten steel production section at Llanwern closed with the loss of 1,300 jobs in July 2001.
The Welsh government said it was disappointing news.
A spokesperson said: "We are very concerned about the ongoing and serious challenges facing the UK steel industry as a whole - not just the impact of the slow economic growth in the UK and the downturn in the construction sector but also the onerous requirements of the regulatory regime.
"The First Minister [Carwyn Jones] has recently met Tata to discuss these concerns, and will continue to meet with representatives at both local and national level and do what we can to support the continued development and long-term future of the Welsh steel industry."
The spokesperson added that with stagnant growth in the UK economy, and the crisis in international financial markets, the First Minister would chair a meeting of the Council for Economic Renewal next week.
The meeting will look at what more can be done to support the construction sector as well as the wider Welsh economy.
Community's national officer Roy Rickhuss said: "We are seeking urgent talks with the company and will be exploring every avenue to see what options are available to sustain the business and avoid the need for compulsory redundancies."
Paul Steele, Tata Steel's managing director for distribution UK and Ireland, said: "It is with great regret that, following a detailed review of the TSCP business, we have proposed to cease operations at construction products.
'Consistent loss'
"Clearly this is a very difficult time for the people who work for the business and I would like to pay tribute to everyone who has tried so hard to enable this business, which has operated at a consistent loss since 2008, to overcome the continuing economic downturn."
Mr Steele, said the construction industry had not recovered well from the financial crisis, and Tata's markets were highly competitive.
He said the company had twice recently restructured "to focus on new and developing markets," but added: "Despite these efforts, most reluctantly, we have come to the conclusion that there are no prospects of generating sufficient viable new business to sustain this operation."
Last month, Tata said the economic recovery looked "very fragile".
It made the comments as the BBC learned that it was to halt production for a week at its Trostre tinplate works in Llanelli.
More than 700 people are employed at Trostre but Tata said the break in production in October would not lead to any job losses.
Tata employs about 7,500 staff in Wales, with about 1,400 at Llanwern.