King's Church, Newport, delivers food hampers for needy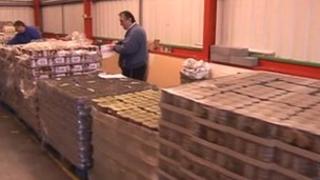 An evangelical church says it is delivering 1,000 food parcels a month to people in south Wales who need help.
Every two months Kings Church, Newport, distributes 60,000 tins of food which would otherwise end up in landfill.
The church says it has more than 100 agencies and charities regularly asking for help for clients.
Barnardo's Cymru said: "We are extremely grateful to the members of the church for their generous contributions and regular donations."
Making the best use of food is a headline-grabbing subject.
London Mayor Boris Johnson took part in the feeding of 5,000 people in Trafalgar Square using food that would have been binned.
King Church says its volunteers parcel out enough food every month to provide at least three good meals from each hamper.
The church's associate pastor, Dave Edwards said the service had developed over the past two years from the homeless drop-in service it ran.
Half a dozen volunteers began filling up about a dozen food parcels for social services clients in Duffryn, Newport.
The church puts a trolley in the aisle during services and the congregation was asked to buy an extra tin, and it snowballed from there.
Now the church delivers to organisations across Newport, Cardiff, Merthyr Tydfil, Swansea and Blaenau Gwent.
Its evangelical connections ensure a delivery every two months of surpluses from the food manufacturing industry. All the produce is within its sell-by date but none of it is available for re-sale.
Much would be heading for landfill if it was not distributed to charitable organisations, said Mr Edwards. A Food Standards Agency leaflet is put in each hamper.
He said: "There is a lot of surplus food and food waste.
"We work with the various agencies. They are on the ground and in the communities that are really deprived.
"Times are not easy. It's really humbling to see some of the needs that are out there and some of the ways the people of Wales are suffering.
"Whereas people could earn a living from industry before, when that rug if pulled from under you, and you are looking for a job for two or three years, you can find yourself in a situation you never thought you would be in."
The church's memberships tops 600, said Mr Edwards, while there are about 35 regular volunteers with the food parcel work, including people outside the church.
He said doctrinal beliefs in the Bible were the motivation for church members.
"If people saw the set of circumstances that individuals had to go through, they would probably wonder why there weren't more problems, like drugs, as well.
"While you would have a lot of people that point the finger, for us, we just go in through the back door with the attitude 'let's try and support them and their family'.
"If they are saying they are hungry, they probably are. We don't find people being greedy or taking advantage.
"The agencies act very appropriately. They are working with very needy clients."
Mr Edwards said a survey of clients showed a need for nappies and baby clothes.
The church is developing a lottery funding bid to provide access to these items on a large scale, he said.
In the meantime, the church says it needs a good-sized van to easy its delivery work ahead of Christmas.
Barnardo's Cymru children services manager Jason Baker said the the church had helped its Marlborough Road partnership for two years.
He said: "Families who are vulnerable and in need of support are provided with essential food produce and household items to help them ensure that their children get a decent start in life."