Blaenau Gwent council ordered to produce action plan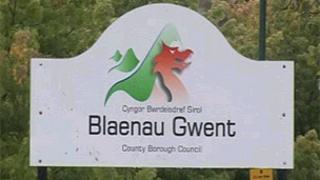 The Auditor General has ordered Blaenau Gwent council to produce an action plan to tackle "fundamental underlying weaknesses" in its operation.
The Welsh government asked auditors to examine the council's overall performance after it was stripped of responsibility for education.
A report acknowledges that Blaenau Gwent has taken some key decisions to improve its provision of services.
But council leader John Mason said: "We know more must be done."
Improvements
In July, Blaenau Gwent local education authority became the first in Wales to go into special measures after a report by inspectors from Estyn found "systemic" management failures.
Education Minister Leighton Andrews appointed two commissioners to run the county's schools, saying it was clear "urgent action" was required to improve standards.
The Wales Audit Office was then asked to examine Blaenau Gwent's overall corporate performance.
Its report published on Tuesday follows a comprehensive review of the council's corporate arrangements which support the planning and delivery of improvements across the range of council functions and services.
The auditor did not recommend any further intervention, but the council has been ordered to produce an action plan within the next 30 days, setting out how it will improve services.
'Long-standing weaknesses'
The report said: "Blaenau Gwent as an area faces many challenges. It is relatively small compared with other Welsh councils, has high levels of deprivation and dependency and complex needs.
"But these factors do not explain or excuse poor performance.
"Whilst the council has generally good corporate arrangements in place to support improvement, long-standing weaknesses in how the council is run and a legacy of failings in leadership and service delivery undermine their effectiveness and lead to inconsistencies in how policies and procedures are applied in practice.
"These failings continue to impede the council's ability to implement the changes needed to achieve significant and sustainable improvements for its citizens."
Independent councillor Des Hillman stepped down as council leader in October, blaming "skulduggery" and "dirty politics" in his ruling group, to be replaced by fellow independent John Mason leading a new ruling executive of independent and Labour councillors.
The auditor noted the "unstable" nature of political leadership in Blaenau Gwent, adding that the new political arrangements were as yet untested.
John Mason, the new leader of the council, said: "This report from the Wales Audit Office does not recommend any intervention into the running of the council at this time, and also recognises the tough decisions we have already made in order to do better."
"We know more must be done and we are already working to address some inconsistencies and weaknesses that have been set out in the report."
He said councillors had a commitment to work together and the new political management arrangements were a "crucial step forward".