Newport Nevis biomass fuel plant in Santander deal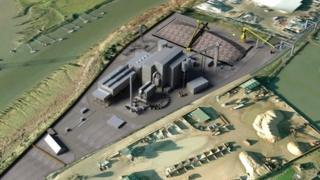 Plans for a new green power plant in Newport have moved forward after Welsh Power sold half of it to Santander.
The Nevis biomass power station, which will be run using renewable fuel, will be capable of supplying electricity to around 50,000 homes in the Newport area when it is built.
The project will now be jointly financed by Welsh Power and Santander.
In addition to 200 construction jobs, the plant will create around 30 jobs once it is built.
Nevis holds full planning permission for its 10-acre brownfield site in Newport docks and pre-construction work started there in August.
Building work is expected to start in April or May next year, with commercial operation starting in June 2014.
Alastair Fraser, chief executive officer of Welsh Power, said having on Santander on board was a "major advance" for the business.
"Having a company of the status and quality of Santander choosing to partner Welsh Power on the development of Nevis is excellent news," he added.
The Nevis plant, which is designed to be ultra-efficient, will use pure biomass fuels comprising a mix of primarily wood chip and energy crops.