Man badly hurt in crash after car breaks down in Neath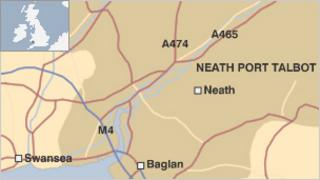 A man suffered serious head injuries after a road crash involving a broken down car in Neath.
Police have appealed for witnesses after the incident involving a Renault and a Ford Escort, which had broken down on the sliproad of the A474.
The crash happened between Stockham's Corner and the Milland Road offslip at 16:37 GMT on Thursday.
Police said a 37-year-old man was on the passenger side of the Escort.
He is being treated for a serious head injury and is in a stable condition in Morriston hospital.
A 77-year-old woman driving the Renault was treated for minor injuries.
The ambulance and fre services were called to the scene.
South Wales Police say they would like to speak to anyone who saw the collision, especially anyone who had stopped to help the driver of the purple Escort.
The road was closed for four hours as an investigation got underway.
Anyone with information is asked to contact the South Wales Police Roads Policing Unit in Gwaelod y Garth, Cardiff on 02920 633438 or Crimestoppers on 0800 555111.