Son's ambulance anger over Jacqueline Davies' death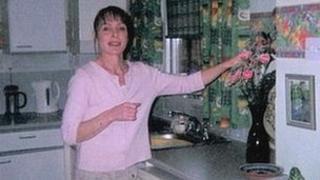 The son of a woman whose death may have been contributed to by a "significant failing" of the Welsh Ambulance Service says lessons must be learned.
Jacqueline Davies, 49, died nine days after a 41-minute wait for a paramedic after collapsing at her Monmouth home.
Her son Mathew is being supported by Monmouth MP David Davies, who is "gravely concerned" by the facts from the inquest and the coroner's findings.
The Welsh Ambulance Services NHS Trust says it has made several improvements.
At the inquest, the coroner said there was evidence to suggest Ms Davies had possible underlying pneumonia, which caused her to collapse. Sudden adult death syndrome could also not be ruled out.
However, the inquest was told that a number of factors caused delays in her being treated.
"It confirmed what we already knew," said Mathew Davies. "It has been emotionally and mentally traumatising.
"You know it could have been prevented. This was a systematic failure that led to neglect."
The inquest also revealed that a shift at Monmouth ambulance station was not covered and when a paramedic did arrive, the rapid response vehicle (RRV) failed to start because its battery had not been charged.
The hearing was told that a doctor had seen Ms Davies on 11 January 2011. She later fell ill and was taken to Nevill Hall Hospital, Abergavenny, before dying on 20 January.
Ms Davies' son said the key to avoiding a repeat was having an RRV serving Monmouth.
"There's always meant to be an RRV in Monmouth but whenever they get a call from somewhere else in Monmouthshire, they have to leave, and it could be 30 miles away," he said.
"I have lists and lists that show people have waited long periods of time like this.
"The system that they've got isn't working, especially with Monmouth being on the border.
"Investment is needed in an RRV in Monmouth without it going further than five miles of Monmouth. There's 10,000 people living here."
Monmouth MP David Davies, the chair of the Welsh Affairs Select Committee, called the case deeply shocking.
"The facts cannot be dismissed and I am appalled by the systematic failure of the Welsh Ambulance Service NHS Trust to provide an appropriate and timely response," he said.
"Indeed, I believe Jackie's death could have been prevented had the emergency medical services arrived sooner."
The MP did not blame the paramedics, but said ambulance organisation needed examination, and has asked to meet chief executive Elwyn Price-Morris.
He said Monmouthshire had the worst response times in Wales and some of the worst in the UK.
The trust accepted the coroner's verdict and offered condolences.
'Support patients'
"We are committed to providing high quality and safe services in the Monmouthshire area and have made a number of improvements to our services since January," said a spokesperson.
"These include the introduction of formal cross-border arrangements with West Midlands Ambulance Service to make sure we provide timely responses to all emergency life threatening incidents in bordering areas and the revision of working practices to ensure operational cover is maximised during periods of high demand.
"Our working practices have also been reinforced to staff to ensure all ambulance vehicles are in a fully operational condition to respond immediately to any call at all times."
The trust said it was continuing to work closely with its local health board partners "to further reduce and eradicate any unnecessary patient handover and turnaround delays".
"Additional improvements include the development of an enhanced clinical service over the telephone to avoid taking patients unnecessarily to hospital and the development of a range of alternative care pathways to support patients receiving care at home or within the community," the spokesperson said.
Deputy assistant coroner for Bridgend and Glamorgan valleys Wayne Griffiths said there was a "significant failing" of the trust.
Recording a narrative verdict, Mr Griffiths said the delay in handing over patients at hospitals, resulting in delayed responses to calls waiting and an "unacceptable" reason for the RRV not being in operation may have contributed to her death.