Cardiff bus station to be heart of new business district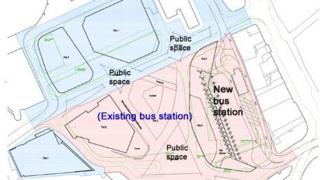 A new bus station in Cardiff will be in the heart of a business district for the city, Cardiff council says.
The proposal would see the present bus station and surrounding buildings make way for a complex of new shops and offices in a pedestrianised zone.
A new public square in front of the train station and a possible location for a convention centre are included in the plans going before the council.
The current bus station would go in 2013 with the new one opening in 2014.
The vision for the Cardiff Business District includes an integrated transport hub, with electrification of mainline rail services to London and local Valley Lines services part of the plan.
The bus station would move to the site of the Wood Street NCP car park, with buses coming straight up and down out of Westgate Street to a 19-stand site and leaving in and out of Saunders Street to the bottom of St Mary Street.
Planners say moving the bus station to that location would mean it would allow it to remain unaffected by street closures around the stadium on match days and other events as services could just use the southern entrance from St Mary Street.
'Ambitious plans'
In its report, the council describes the Central Square area as "outmoded".
"At present many buildings surrounding the Central Square date from the 1960's and do not match the council's aspiration to create a high quality business district," the report said.
It acknowledges it will have to spend money to buy up existing buildings and land for the site, but aims to mitigate the cost by creating high-value office space, shops and eateries.
The council is in discussions with two major Cardiff employers about moving into the 230,000sq ft office block proposed for the west side of Central Square.
Council leader Rodney Berman said: "In the current economic climate our ambitious plans for a central business district for Cardiff are needed more than ever and will prove to be the start of a new era for the city firmly establishing us not just an economic driver for the city region but a powerhouse for the Welsh economy.
"I am also particularly pleased to see the proposals for a new Central bus station as this is something we have needed for some time and this vision will, I believe, be truly fit for 21st century Cardiff."
The proposals will go before Cardiff's executive committee on Thursday.