All Saints Church, Maerdy, parishioners aim to keep it open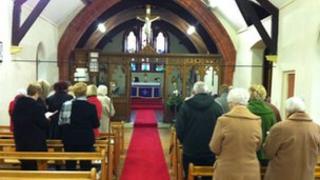 Parishioners of a Rhondda church say they are determined to keep it going after its closure last summer.
All Saints Church needs hundreds of thousands of pounds worth of repairs and had a small congregation.
The local parochial church council decided to close it in July because it was considered unviable.
The church hit the headlines when supporters began a month-long sit-in, ending when the Church in Wales offered to sell it to them for a token £1,000.
Those who attended the church in Maerdy are still having unofficial "songs of praise" services at the church every week.
About 20 people come wearing overcoats and scarves in the unheated building. No member of the clergy is present.
Hymns and readings are chosen by Barbara Daniel.
"I'm honoured to be able to do it for the people, but I'm very hurt that we are not having our Anglican service here with communion," she said.
"We follow the church readings and the Lectionary every Sunday. We don't deviate from that at all.
"I've been in this church 40-odd years. I've taken many roles and I've always worked hard to make sure that the church keeps running."
The last official regular service at the Rhondda church was in July.
Two pre-booked weddings have taken place in the church since then, and the building was declared redundant by the Church in Wales in November.
Parishioners have been invited to churches in nearby Ferndale and Tylorstown.
Communion has also been made available in Maerdy's community centre, but 75-year-old Pamela Phillips said that would not be the same for her.
"It isn't a church is it, the community centre?" she said.
"Our church is here and this is where we are staying. A community centre is lovely for the people, but it isn't a church, so why should we have to go there for communion?"
The Church in Wales has offered the Friends of All Saints the opportunity to buy the church for £1,000 so they can carry out the work needed on the building.
They have also been given the opportunity to lease the church for a year while they draw up plans of how to fund the necessary work.
Alex Glanville, head of property services for the Church in Wales, said he was still waiting for a reply.
"This building does need a considerable expenditure to put it into good order," he said.
"It could be up to £400,000. The roof is in a serious condition. There are problems with electrics and heating and all the other aspects of the building.
"It's a challenge, but not an impossible challenge. These things do get done in other places. So it's a challenge but we're laying that challenge for the friends to see what they can do".
A second-hand shop has been opened in Maerdy to try to raise funds for the repairs to the church.
'Financial restrictions'
The group says it has the money to buy the building, but working out how to carry out the repairs and getting the professional advice needed is proving tough.
Peter Blake is a former church warden and a leading figure in the Friends of All Saints.
"We're trying hard in a community that's not a well off community by a long, long way," he said.
"And with the financial restrictions across the country, raising money is a lot, lot harder. There are grants available, but we can't apply for them until we own the building.
"In our last communion service, I couldn't stay until the end because this place has formed a huge part of my life. Now that has been taken away, it's been like a bereavement with a long-term mourning session.
"If we could get it back to as it used to be with regular services I would feel a lifetime's achievement. At the moment we are treading water.
"I have sleepless nights, you realise things may not be going as well as you'd hoped and the mountain you have to climb.
"It's upsetting, an empty feeling, and I don't like it."