Cardiff Experimental Cancer Medicine Centre's £2m boost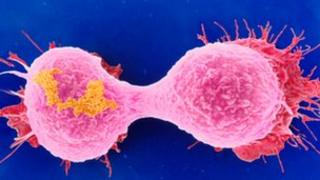 A cancer centre in Cardiff is to receive £2m in new funding from the Welsh government and the charity Cancer Research UK.
The money is being made available to the Cardiff Experimental Cancer Medicine Centre over five years.
The unit specialises in looking into new ways of treating cancer diseases such as leukaemia.
It is part of a network of laboratories backed by Cancer Research and governments across Britain.
"The Experimental Cancer Medicine Centre (ECMC) Network is of major importance in the development of new anti-cancer treatments," said Prof Keith Lloyd, head of the Welsh government's National Institute for Social Care and Health Research.
The centre has been focusing on research into acute myeloid leukaemia, a blood cancer with about 2,000 new cases every year in the UK.
'Vital role'
The unit is currently leading the world's largest research trials into that disease.
"The work being done in Cardiff could lead to new treatments for the disease, so it is vital that funding has been secured," added Prof Lloyd.
The centre is also working on developing biomarkers, a way of both identifying changes in the body chemistry to pinpoint cancers and also helping unlock mechanisms and treatments for the disease.
The ECMC is part of Cardiff University, and was set up in 2006 along with centres in England, Scotland and Northern Ireland, with the goal of speeding up the development of cancer treatments.
In November, the network of labs announced a new project which will see the genes of 9,000 patients tested in a bid to improve therapies.
Dr Joanna Reynolds, Cancer Research UK's director of centres, said: "The ECMC Network plays a vital role in delivering high quality early phase cancer research, which has raised the UK's status in the field internationally.
"Funding has underpinned the development of some of the most promising and innovative new cancer drugs, which are already on the path to becoming established treatments for future cancer patients.
"We are proud to support the initiative and look forward to more breakthroughs in the future."