Somme soldier Thomas Lewis's medal at Cardiff Castle Museum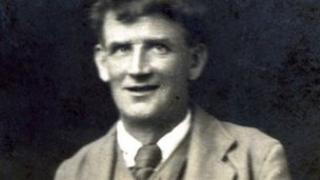 A soldier honoured for gallantry and devotion at the Battle of the Somme during World War I has had his medal put on display in Cardiff.
Rhondda-born Pte Thomas Lewis received the Distinguished Conduct medal for risking his life in 1916.
The former miner came under heavy fire to save a fellow soldier who had lain injured in no man's land for days.
Pte Lewis's family presented the medal to Cardiff Castle Museum of the Welsh Soldier.
The Battle of the Somme in 1916 lasted more than four months and claimed about 420,000 British lives, including 20,000 on the first day.
Former miner Pte Lewis, then 38, was a volunteer with the 2nd Battalion of the Welsh Regiment.
He was involved in the main assault at High Wood.
Enemy snipers
It was there that a soldier who was thought to have been from the South Wales Borderers had been wounded and left to die for several days.
Pte Lewis's great-grandson, Maj Howard Smith of the Queen's Dragoon Guards, told BBC Wales: "It was around about the 8th of September and it seems after a sustained period of fighting, a soldier from a different regiment had been out in no man's land for a period of days.
"I would've thought that after a while possibly, the sound of his cries perhaps became a distraction.
"I have this vision of my great-grandfather saying: 'I've had enough of this', and jumping out and running 100 yards under heavy German fire and rescuing this chap and putting him in a fireman's lift and bringing him back."
The London Gazette reported that Pte Lewis rescued the man over the front line while "under observation of numerous enemy snipers".
It read: "For conspicuous gallantry and devotion in voluntarily going out 100 yards in front of a line and bringing in a wounded man"
It went on: "Pte Lewis was heavily fired on the whole time."
Unfortunately, the rescued soldier later died from his wounds.
Pte Lewis was born in 1878 in Pentre, Rhondda. He was one of six children and the son of an iron moulder.
He and wife Mary moved to the Rhymney Valley and had five children.
He worked at the Elliott Collieries, New Tredegar, as a haulier, colliery ripper and coal miner, and died in June 1944.
Major Smith said the family had decided to present the medal to the museum to help preserve it.
"My mother is the last living link to Tom Lewis. She remembers him. She was only 14 when he died," he said.
"She asked my brother and I if either of us wanted it [the medal] and of course we did.
"We knew that perhaps our children would've had an interest, perhaps our grandchildren would've had an interest, but our great-grandchildren would almost certainly flog it!"