Cardiff castle 'temporary' ticket office to be removed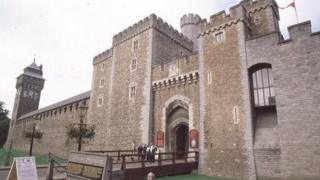 The ticket office and gift shop outside Cardiff castle are to be moved into the grounds, nearly four years after they should have been taken down.
Heritage body Cadw said the "temporary" building was only needed there until an £8m interpretation centre was built.
That was completed in 2008 and Cadw reminded Cardiff council the following year to remove it.
The ticket office and shop will now be located at the centre, and the moat site where it stood will be landscaped.
'Iconic site'
In 2009, heritage experts warned that the "visual clutter" of the temporary structure would set a precedent for other major historical buildings in Wales if it was allowed to stay.
When the council applied for permission to keep the structure for a further five years, the Ancient Monuments Administration came out firmly against it.
A letter to the then Welsh coalition government said: "Critically, we know of no other major castle or historic site of a comparable level of significance in Wales where an overtly modern building has been sited directly, and prominently, outside its main entrance and in the centre of the principal view of the site.
"Should a semi-permanent building such as this be permitted, in front of this iconic site in Wales' capital city, it would set a precedent which could be difficult to resist if proposed at other key historic buildings in Wales."
Cardiff council said the "long term plan" had always been to move the ticket office and gift shop in to the castle grounds.
A spokeswoman said: "Modifications need to be made to the interpretation centre. We are now in a position to do this."
'Sense of arrival'
The council said the work will also "enhance the visitor experience on arrival at the castle".
Councillor Nigel Howells, the executive member for sport, leisure and culture said, said the work would represent the "final piece of the jigsaw" in the castle's Heritage Lottery-funded conservation project.
He said: "The aspiration is to create a public space, integrated with the castle quarter, which signifies to visitors a sense of arrival at one of the UK's most important historic sites."
Cadw said it welcomed the removal of the temporary building and the restoration of the open views of the castle entrance.