Monmouth ambulance response fears raised by MP David Davies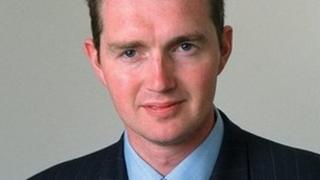 The Welsh Ambulance service says it is to increase cover in Monmouth following concerns about response times.
MP David Davies raised cases, including that of a 49-year-old who died nine days after a 41-minute wait for a paramedic, when he met managers.
The service says an extra high dependency crew will join the paramedic and rapid response vehicle already stationed at Monmouth in February.
Mr Davies welcomed the promise to improve the service.
He raised the case with senior service managers of Jacqueline Davies who died after a 41-minute wait for a paramedic after collapsing at her Monmouth.
In December an inquest into her death heard that a shift on 11 January 2011 was not covered and, when a paramedic did arrive, the rapid response vehicle (RRV) failed to start because its battery had not been charged.
Mr Davies also raised the case of a family who waited more than double the target response time for an ambulance after a five-month-old boy stopped breathing at his home in Monmouth last month.
"There have been a number of very unsatisfactory cases recently involving ambulance response times, particularly in the Monmouth area, and people are understandably worried," said the MP.
"I had a useful meeting with management and we discussed these specific cases and why response times are bad.
"The trust has been honest enough to admit to mistakes and it has been putting in improvements to its services."
Cross-border arrangements
Mr Davies said he was told although there was not going to be a dedicated ambulance for Monmouth and Chepstow, each town will have a dedicated paramedic and rapid response vehicle.
"These paramedics are highly trained and will be able to initiate medical procedures in an emergency," he said.
"If patients need transporting to hospital, then an ambulance will arrive.
"The trust is still aiming to respond within the target time of eight minutes, although an ambulance is not going to be ring-fenced.
"We also discussed plans to ensure the ambulance station in Monmouth, which is currently closed, is replaced with other facilities.
"There are also going to be better cross-border arrangements with ambulance trusts in England to ensure that if an English ambulance is closest to an emergency in Wales, it can be utilised."
'Useful and constructive'
He said the ambulance trust was also working with the local health board to try and ensure people with minor injuries were treated by specialist medical staff without the need to be transported to A&E.
A Welsh Ambulance Service spokesperson said the meeting with Mr Davies was "useful and constructive" and they would meet again next month.
A spokesman said: "We would like to reassure communities in Monmouthshire that there is 24hr ambulance cover in the area, with a dedicated paramedic and rapid response vehicle stationed within Monmouth itself.
"Plans are also in place to increase ambulance provision further with the addition of a high dependency crew from mid-February onwards.
"We are committed to improving the quality of our services and will continue to work with the Welsh government and our NHS partners to ensure patients across Monmouthshire receive a consistent and high quality service."
A public meeting on the issue of ambulance cover will take place in Monmouth at 19:00 GMT on Wednesday.