Cow death of dog walker Marilyn Duffy was accidental, says inquest jury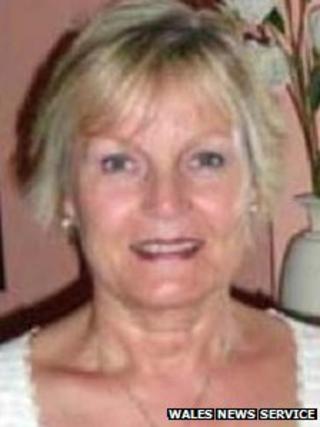 A woman was killed by cows in a field in Cardiff while walking a friend's dog, an inquest has found.
A jury returned an accidental death verdict on Marilyn Duffy, a 61-year-old retired mother-of-two.
A witness said she saw a group of 20 cows surrounding a person lying on the ground in Radyr.
Police and paramedics found hoof marks near Mrs Duffy's body and on the jeans she was wearing.
Mrs Duffy had been walking an elderly friend's dog when she died last August.
Older animals
The inquest heard statements from Mair and Andrew Fogarasy who live next to the field.
Mrs Fogarasy said she had been looking out of an upstairs window when she saw a group of around 20 cows in a field opposite.
They appeared to be surrounding a person who was lying on the ground on land near Pant Tawel Lane.
Mr Fogarasy said he rang landowner Michael Evans, who has a 160-acre farm in Pentrych.
The farmer had ridden to the scene on his quad bike after hearing of the incident, the inquest was told.
Mr Evans, giving evidence, said that after arriving at the field he rounded up the cattle into another field.
He said he realised Mrs Duffy was dead.
The farmer told the inquest that he had never had any problems with particular group of cattle and as they were mainly older animals he considered them more docile.
Mrs Duffy's husband Roger told the inquest in a statement he had expected his wife to be gone for an hour-and-a-half on 29 August.
But he said he had been alerted by her friend Beryl Cann, 92, whose dog she had been walking.
In a statement read by their solicitor Peter Davies, Mrs Duffy's family said they hoped her death would not be in vain and that they hoped steps would be taken to make sure pedestrians were safer on public footpaths.