Same-day burial plan for Cardiff after Muslim request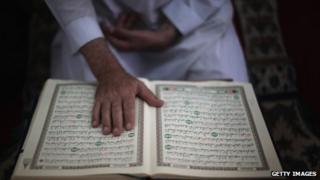 A same-day burial service is being prepared for Cardiff, aimed at meeting the cultural and religious needs of mainly Muslim and Jewish communities.
Cardiff has run a next-day burial service on request since 2004, but a survey of Muslim leaders led to calls for a same-day option.
Under the proposal, a burial booked by 10.30am could happen as early as 2.30pm that day, if the paperwork is in order.
However, the service would not be restricted to a particular faith group.
The proposal would also allow anyone to report a death at a weekend or on a bank holiday.
Shorter notice
A report to councillors says it will cost more, but this can be met from the service's £2.8m budget.
The Muslim Council of Wales has asked the council to accommodate the needs of the city's Muslims, which it estimates as 25,000.
Under Islamic law, a person must be buried as soon as possible after death. This is usually no more than 24 hours later, according to the Muslim Council for Religious and Racial Harmony in the UK, with the body having been washed and shrouded in cloth.
For the past eight years, Cardiff council has operated a short notice burial arrangement whereby a funeral booking notified before noon will be conducted the following day, including weekends and some bank holidays.
Members of the council executive will consider proposals on Thursday to upgrade this to a same-day service, which would be available to anyone who asks for it.
The option would require a funeral booking to be made by 10.30am, with the legal paperwork completed by noon. Burial could then take place at an available 2.30pm or 3.30pm slot.
Religious needs
If approved, the same-day service would operate from April, although deaths notified to coroners would not be included.
The report says: "It was clear from all of the service users and faith group leaders that a same-day burial service would better meet the religious needs of both the Muslim and Jewish communities".
It said it would mean challenges, but would deliver "a significant and much-needed change that benefits a large part of the community and addresses both their cultural and religious needs".
Cardiff council said it dealt with about 50 Muslim and six Jewish deaths each year, it had been able to provide all next-day burial requests since the system began.
"The afternoon slots are not going to be 'reserved' for any particular faith group," said the council.
"If both times are already taken the agreement will be for the next available burial time to be utilised, which could be the following day.
"Most local authorities with large ethnic groups recognise the need to provide services such as this to meet the religious and cultural needs of its population.
"Cardiff has a very good understanding of such processes and procedures through its own staff's knowledge and experience but has also sought views from other authorities in the UK."
Saleem Kidwai, secretary general of the Muslim Council of Wales, said he hoped the service would go ahead as an acknowledgement that "just like the Jewish community, Muslims also need to bury their dead as soon as possible or within 24 hours".
'Spiritually stressful'
He said it was still that the case that someone who died in hospital in Cardiff on Friday evening, for example, might not be buried until Tuesday due to the bureaucracy involved.
He said: "It is spiritually quite stressful for their family."
He added: "If these changes go ahead, I hope it would be a beacon for other local authorities to follow."
Cardiff councillors with links to the Muslim, Sikh and Hindu communities were included in the consultation exercise.