Cardiff paramedic Philip Hillier struck off for slap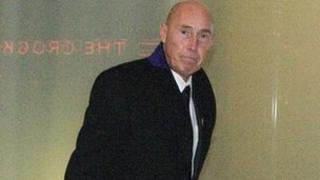 A paramedic who slapped a woman patient across the face and spoke to her aggressively has been struck off for 12 months at a disciplinary hearing.
Philip Hillier, 53, was found guilty of misconduct over the treatment of a woman he believed was faking injury in Cardiff.
A panel ruled he had shown no remorse and posed a potential risk to patients.
It also said he had undermined the reputation of the Welsh Ambulance Service.
The panel heard Mr Hillier had been accused of an "unprovoked assault" on the 20-year-old woman during a call-out in Cardiff city centre.
He had found the woman apparently unconscious with back injuries at her home but believed she was faking it.
The tribunal heard he asked her why she was "being a silly bitch?"
She then swore at him and it was claimed he then slapped her across the face knocking her to the floor.
Mr Hillier, a paramedic for 20 years, told the Cardiff hearing that the woman had "lunged ferociously" at him and punched him in the eye.
The hearing was told that as he was examining the woman in a bedroom of the house he upset her and she told him she did not want to speak to him.
Mr Hillier said: "She realised I had sussed her out about whether she was pretending to be unconscious. I felt she was exaggerating.
He said she shouted "a string of expletives" at him.
"Defensive move"
"She was screaming into my ear and I defended myself by pushing her face away," he said.
"I did not slap her - I pushed her away in a defensive move. I used my right hand to ward her off."
But the Health Professions Council Conduct and Competence Committee decided they preferred the version of events given by the patient and John Harries, another paramedic at the scene, to that of Mr Hillier.
Panel chairman Ian Griffiths said: "It is an extremely serious matter for a health professional to speak to a patient in an aggressive manner and to strike her.
"By acting as he did Mr Hillier undermined the confidence the public is entitled to expect. He also presents a continuing risk to patients."
Mr Hillier was reported to the police for alleged assault but was never charged.
He was dismissed from his job with the Welsh Ambulance Service Trust but later won an appeal and was offered another role but chose not to take it.
The tribunal suspended his registration to practise for 12 months.