Nikitta Grender murder: Carl Whant had 'consensual sex with victim' claim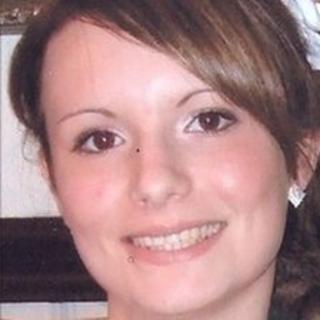 A man accused of stabbing a pregnant teenager to death claims he had consensual sex with her hours before she died, a jury has heard.
Carl Whant of Bettws, near Newport, said Nikitta Grender's boyfriend Ryan Mayes invited him to join them in bed, Newport Crown Court was told.
But Mr Mayes said the claim was preposterous, the court heard.
Ms Grender, 19, was found in her burning flat. Mr Whant denies murder, rape, arson and child destruction.
The jury heard that Mr Whant, 27, admitted that DNA evidence showed that he had had sex with Miss Grender but he denied raping her.
He is the second cousin of Mr Mayes, 17, the murdered teenager's boyfriend and father of the unborn child.
Gregg Taylor QC, prosecuting, said Mr Whant belatedly claimed that he had sex with the couple at their flat hours before the murder.
Mr Taylor said Mr Whant's claim had never been made to the police during 26 separate interviews in the past.
Victim's DNA
Reading out part of the statement, he said Mr Whant claimed he was in the couple's flat and they were both there.
He said he saw Miss Grender, who was heavily pregnant, in the bedroom lying on the bed and he went to the kitchen to smoke a cigarette.
"After five minutes Ryan called me into the bedroom and I saw he was naked lying on top of Nikitta who was also naked.
"He invited me to have sex with her. I agreed and proceeded to have consensual sex with her."
Mr Taylor said that when the claim was put to Mr Mayes he said: "It is preposterous - it never happened at all."
Miss Grender was found in her burning flat in Liswerry, Newport, in February 2011.
The jury also heard blood found on Mr Whant's clothes matched the victim's DNA.
Grandmother's home
Diluted bloodstains were found on a blue shirt and the inside of a jacket.
Mr Taylor told the court the clothes Mr Whant was wearing that night were handed over to police but had been washed.
The defendant told officers that any blood found on them would have been old from fights months previously.
The jury also heard that the accused told police he had left a party the night Miss Grender was killed to get cigarettes from his grandmother's home.
He claimed he had avoided Newport city centre on the journey because he had been drinking.
But Mr Taylor said CCTV pictures would show Mr Whant did not take that route at all. Instead, it was claimed, he had had driven in his Ford Focus towards Ms Grender's home.
The jury was told that the knife used to kill Ms Grender and her unborn daughter had never been found.
In the dock, the defendant made occasional notes as the barrister continued his opening statement. The trial adjourned on Friday afternoon and is due to resume on Monday.