Public order charge after anti-terror police halt meeting in Canton, Cardiff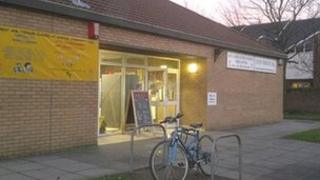 A 21-year-old man has appeared in court after anti-terrorist police halted a meeting at a Cardiff community centre.
Welsh Extremism and Counter Terrorism Unit officers were called to Canton Community Hall on Thursday night.
Police said concerns were raised by members of the local Muslim community.
A man from the Grangetown area has appeared before local magistrates, charged under section four of the Public Order Act 1986.
Earlier, concerns were raised about the banned Islamist group Muslims Against Crusades.
South Wales Police assistant chief constable Matt Jukes said the police action was part of a wider strategy to "prevent radicalisation within our communities and to stop vulnerable people from being drawn into extremism or becoming prey to terrorist ideologies".
Anti-terror laws
"While there is a need for a careful balance in protecting freedom of speech, promoting or glorifying terrorism is unlawful and groups such as Muslims Against Crusades have no place in South Wales.
"Our actions, and that of our partners, represent a proportionate response to this issue."
Police said the decision to attend the venue in Leckwith Road was taken after a series of complaints had been raised about the activities of the group, Muslims Against Crusades.
It was made a proscribed organisation in November last year by the home secretary, under anti-terror legislation aimed at stopping activities that could promote or glorify terrorism.
Being a member of the group or promoting its activities is a criminal offence.
The operation was supported by Cardiff council, which owns the community centre.
Council chief executive Jon House said a number of concerns had been raised with Cardiff council by the city's Muslim communities.
Riverside councillor Mohammed Islam said local mosques had already banned individuals from handing out radical leaflets, and he welcomed the police action on Thursday evening.