Daniel Cripps inquest: Paramedics 'left him to sleep it off' after drinking game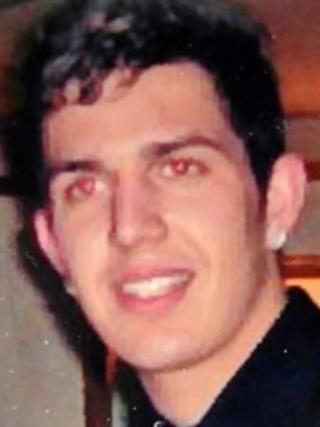 A man who died after a drinking game should have been taken to hospital by paramedics, an inquest has heard.
Daniel Cripps, 22, became "completely out of it" after drinking 14 shots of vodka at a house party in Newport.
Paramedics were called but left him to sleep if off. He became ill and died.
"With the benefit of hindsight he should have been transferred to hospital," said the Gwent coroner, recording a narrative verdict. His family plan legal action.
After the inquest, Mr Cripps' father Michael said he was planning legal action against the Wales Ambulance Service.
The inquest heard Daniel Cripps drank 14 shots of vodka in the drinking game with friends in April 2010.
Party hostess, Danielle Baker, said: "Daniel was drinking the shots in quantity. He was fine at first but later he was completely out of it.
"We were worried about him so we called an ambulance. The paramedics told him that he needed to sleep and let it wear off.
"I was surprised that they left him and we thought he should have gone to hospital in the ambulance. After they left, he began being sick and his lips turned blue."
A second ambulance was called and the inquest heard paramedics tried to revive him, but Mr Cripps died before reaching hospital.
'Nice quiet place'
Mr Cripps, of Maesglas in Newport, was a fit soccer player with ambitions to be a male model.
A post mortem examination found he was nearly four times over the drink-drive limit, and the cause of death was alcohol intoxication and choking on his own vomit.
First paramedic Ian Powell said: "We put him in the recovery position and in the back of my mind was the thought to take Daniel to hospital.
"But we left him. His friends were saying to let him sleep it off and we were swayed by the environment.
"He was in a nice, quiet place with people he knew.
"If it was a pub, club or raucous party I might have taken a different decision.
"We deal with alcohol-related cases frequently but you get a lot of stick from other staff if you take them in."
The inquest heard how an independent review after his death found that Mr Cripps would "most likely" have been saved if he had been taken to hospital.
Dr Charles Deakin, an independent expert, said: "If he had been taken to hospital, airway management would have been able to prevent his death.
"The chance of him dying if left at the party was only one per cent but it was a significant risk."
Gwent coroner David Bowen recorded a narrative verdict, saying Mr Cripps died after "binge drinking".
Mr Bowen said: "Daniel had died within 20 minutes of the first ambulance.
"With the benefit of hindsight he should have been transferred to hospital."
After the hearing, his family warned against the dangers of binge drinking and alcohol-fuelled party games.
His father Michael, 44, said: "I'm absolutely distraught. He should have been taken in the first time and we are taking legal action against the ambulance service."
He added: "He was not normally a binge drinker. He did like to have a drink, but by no means was he abusive with drink."
A Welsh Ambulance Service spokesperson said: "The Welsh Ambulance Service accepts the coroner's verdict and would like to offer its sincere condolences to the family at this difficult time.
"The trust has ensured that all learning from cases like this help to improve our services for the future."