Bishop Hedley's Cathays Cemetery memorial restored and rededicated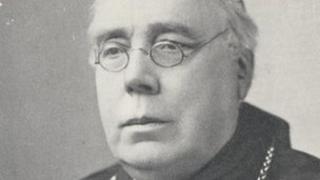 The restored tomb of a notable campaigning Catholic bishop from the Victorian era has been rededicated after restoration.
Bishop Cuthbert Hedley helped pave the way for Catholics to resume studying at Oxford and Cambridge universities after a gap of more than 200 years.
He also campaigned for the Vatican to create the current Archbishopric of Cardiff, but died before it happened.
A ceremony has taken place at Cathays Cemetery in Cardiff.
It will be undertaken by Bishop Hedley's present-day counterpart, the Archbishop of Cardiff, the Most Reverend George Stack.
Born in 1837, John "Cuthbert" Hedley became Bishop of Newport and Menevia - which is now the Archbishopric of Cardiff - in 1881.
As well as his role in the Oxbridge debate, Bishop Hedley laid the foundation stone of the new Church of Our Lady in 1893, which provided free catholic education in Merthyr Tydfil for the first time.
Merthyr's current Roman Catholic secondary school, opened in 1967, bears his name.
Now, almost a century after he died in 1915, Bishop Hedley's tomb in Cathays Cemetery had begun showing its age.
"The tomb covers nine plots, and is one of the grandest in the cemetery," said John Farnhill, from the Friends of Cathays Cemetery.
"That's saying something if you think that Cathays Cemetery is also the resting place of quite a few of the 19th Century's industrialists and coal barons."
Despite being an important man in his own lifetime there was no-one left to take care of the grave, Mr Farnhill added.
"There was grass growing through cracks in the masonry, and the Latin inscription had become illegible."
Mr Farnhill said the Friends of the Cemetery were always looking for projects like this, and the Roman Catholic Archbishopric of Cardiff helped with the cost of restoring the monument.
Throughout his tenure, Bishop Hedley also campaigned for the diocese of Newport and Menevia to be upgraded to an Archbishopric.
He died in 1915, aged 78, before the Vatican eventually granted his wish, creating the current Archbishopric of Cardiff.