Nikitta Grender murder: Carl Whant's car seen on CCTV, court hears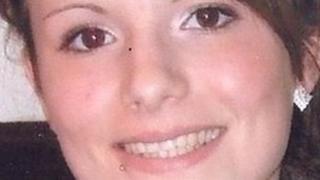 A car belonging to a man accused of murdering pregnant teenager Nikitta Grender was identified three times by a CCTV expert, Newport Crown Court has heard.
Matthew Cass, of the Transport Research Laboratory, picked out the car belonging to defendant Carl Whant, 27.
Ms Grender, 19, died two weeks before she was due to give birth to a girl she had already called Kelsey-May.
Mr Whant denies murder, rape, arson and child destruction. The trial continues.
Her body was found in her burnt-out flat in Broadmead Park, Lliswerry, Newport, in February 2011.
A post-mortem examination revealed she had been stabbed in the neck and belly.
The court heard how Mr Whant, 27, had been at a house party with Ms Grender's boyfriend - also his cousin - Ryan Mayes, and left at about 05:00 GMT.
He later told police he had driven the short distance to his grandmother's house to pick up cigarettes, but did not return until an hour later. He said he took a longer route to avoid being stopped by police.
On Wednesday, the jury heard from Mr Cass, who specialises in identifying vehicles from CCTV footage.
The jury was shown nine clips, including footage from cameras outside Maindee police station, the Godfrey Arms pub and a newsagent on Prince Street.
Mr Cass said he believed the car in the clips was a Mark 1, pre-facelift, light-coloured Ford Focus.
The court had previously heard Mr Whant owned a silver X-registration Ford Focus, and blood matching Ms Grender's DNA was found inside.
Working on the theory the car in the CCTV footage was Mr Whant's, police staged three reconstructions.
Five vehicles drove past cameras at Maindee police station, the convenience store and the pub. Four were dummy vehicles, the other belonging to Mr Whant.
Mr Cass said he "had no knowledge" of which cars were which when conducting his analysis.
He said he was later told the vehicle he picked out as the one in the CCTV footage was Mr Whant's.
Mr Cass said a faulty light above the rear number plate, the placing of the tax disc and its window shape made the vehicle distinctive.
He added: "It is my opinion the vehicles in the CCTV footage and the reconstruction are indeed the same car - a silver, pre-facelift, mark 1 Ford Focus."
If they were not the same car, then an "identical" one must have been driving past at the same time that morning, he said.
The jury was also shown a map, which had a route superimposed on it, based on the CCTV footage.
Previously, the court heard police scoured 200 discs containing CCTV footage from 300 businesses in Newport.
In cross-examination, Mr Cass agreed with Christopher Kinch, defending, that it was possible cars of the same make and model could be distinguished from one another by their "acquired features".
He said there was no set way of establishing vehicles and no "established good practice," but lots of experience minimised the risks.
He also acknowledged that the reconstructions, which were staged in the summer, could not exactly replicate the conditions of 5 February.