Cardiff City's shirt amnesty for Liverpool FC fans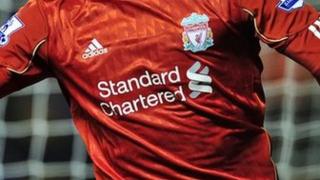 Cardiff City have launched a shirt 'amnesty' where supporters are encouraged to swap their Liverpool shirt for a Bluebirds top.
Cardiff want to turn south Wales-based Liverpool fans away from the Premier League club and support their local team instead.
The two sides meet in the Carling Cup final at Wembley on 26 February.
Fans bringing in their Liverpool shirts will be given a £12 discount on a Cardiff top.
The unwanted tops will be given to children's charities in Liverpool.
"Cardiff City has always been well supported locally and we are proud of our fan base as it continues to grow year on year," said a club statement.
"City shirts can be seen in high volume at soccer schools, five a side games - more than ever used to be the case, which is fantastic to see."
It added: "We are now giving the many south Wales-based Liverpool supporters the opportunity to fully support their local club, becoming a Bluebird by supporting Cardiff City in the final and beyond.
"Therefore we are launching a shirt 'amnesty', turning south Wales a royal and loyal blue.
"The mission is clear. Help turn Cardiff true blue by getting your Liverpool supporting mates to put down their remote controls.
"The real action, their local team is at CF11, only a short distance away."
The club said the amnesty would take in the club shop and applied to current 2011/12 shirts only, not including special edition shirts.
It is the second amnesty of its kind Cardiff City have run.
Soon after former owner Sam Hammam took over the club in 2000, he held an amnesty to get fans to hand in English club shirts for a Cardiff one.
He had controversially planned to burn them but backed down after criticism and gave them to charity instead.