Nikitta Grender murder: Accused Carl Whant's girlfriend 'affair' concern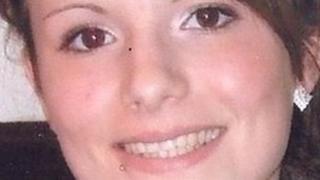 The girlfriend of a man accused of murdering pregnant teenager Nikitta Grender has told a jury that she was worried he might be involved with another woman.
But Rachel Bird also told Newport Crown Court that defendant Carl Whant, 27, was "brilliant" with her young son.
Ms Grender, 19, died two weeks before she was due to give birth to a girl she had already called Kelsey-May.
Mr Whant denies murder, rape, arson and child destruction. The trial continues.
Her body was found in her burnt-out flat in Broadmead Park, Lliswerry, Newport, in February 2011.
A post-mortem examination revealed she had been stabbed in the neck and belly.
'Bad influence'
The court heard how Mr Whant, 27, had been at a house party with Ms Grender's boyfriend, Ryan Mayes, who is also his cousin, and left at about 05:00 GMT.
He later told police he had driven the short distance to his grandmother's house to pick up cigarettes, but did not return until an hour later. He said he took a longer route to avoid being stopped by police.
Ms Bird told the jury the defendant had been a close friend of the victim's boyfriend, and that the two men were always together.
But she also said she did not like Mr Mayes, and described him as a bad influence on her boyfriend.
She also told the court that she had been worried that Mr Whant had been involved with another women.
On the night before Ms Grender died, the defendant's girlfriend said they had arranged to get a takeaway curry and watch rugby, but he did not turn up.
She told the jury she had waited up until about 01:00 GMT before falling asleep, only to be woken by a phone call in the early hours of the morning.
Ms Bird said she called the number back and was told by another woman that it had been Mr Mayes trying to get hold of them.
She said that she told her boyfriend about the call later, after he had been first questioned by police about Ms Grender's death.
Mr Whant, of Bettws, Newport, has claimed he had consensual sex with Ms Grender hours before she died after being invited by Mr Mayes to join them in bed.