Mr Men fail to switch on Pontypool lights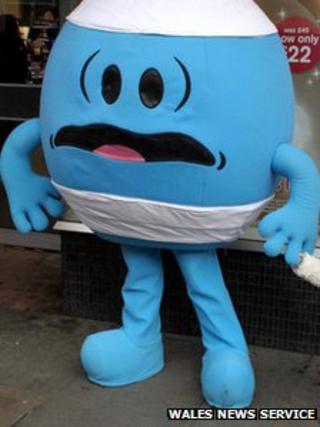 A council says it is unhappy at paying for characters from the Mr Men to turn on their Christmas lights after they could not reach the power switch.
Mr Bump and Little Miss Sunshine greeted children in Pontypool, Torfaen, over the festive period.
But the people inside the costumes could not lift their arms so the town council chairman did the honours.
The company supplying the characters said it was unfortunate if anyone was disappointed.
Hundreds of excited youngsters had turned out to meet the characters from the popular books and TV series.
Organisers say the children were left disappointed when they could not lift their arms to greet the youngsters or turn on the lights.
'Quite upset'
"It was impossible for the characters to wave to the children because they were unable to move their arms," said Ann James, Pontypool Community Council's projects officer.
"The Mr Men characters weren't as popular with the children as other characters such as Peppa Pig and Postman Pat have been in previous years."
A total of £1,495 - nearly a quarter of the event's £7,000 budget - was spent on hiring the Mr Men characters from London-based Rainbow Productions.
Ruth Tucker, clerk to the council, said: "It may be amusing to some people but those who organised the event are quite upset about all this.
"The characters are usually the icing on the cake but they didn't provide the same value for money they did in the past.
"These characters weren't as cooperative as they have been in other years - when we had Noddy and George from Rainbow they were great.
"It's a shame because the Mr Men were by far the most expensive thing at the event."
A Rainbow Productions spokesman said: "Pictures of our characters are sent to local councils and they are aware of what they are getting.
"Our characters are there to make youngsters happy. It is unfortunate if anyone was disappointed on this occasion."