Orange smoke at Aberthaw Power Station investigated by Environment Agency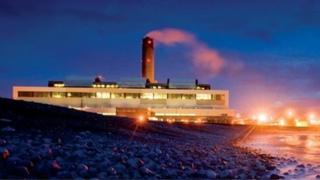 Reports of orange smoke emissions from Aberthaw Power Station are being investigated by Environment Agency Wales.
The plumes were reported from locations across the Vale of Glamorgan, including Llantwit Major, Barry and Aberthaw.
The agency said it was likely to have been caused by low nitrogen dioxide in certain light and weather conditions.
Station manager Phil Allen said there had been no breaches of its emission limits.
He said: "We care about the environment in which we operate and over the past three years we have invested £200m in environmental technologies to improve emissions.
"Aberthaw Power Station operates under stringent EA [Environment Agency] regulations.
"All emissions from the station are continuously measured and we are bound by our operating licence to report any breaches of this. We have had no recent incidences or breaches of our emissions."
Environment Agency Wales said the coloured plume "can occur when releases from Aberthaw Power Station are well within the permitted safe emission limits".
A spokesman added: "It is likely that Monday's event was caused by the release of a plume containing low levels of nitrogen dioxide.
"The plume can appear as an orange/yellow cloud or streak low in the sky under certain lighting and weather conditions, and can move down the Bristol Channel with the wind.
"These conditions are much more common at this time of year, when the sun is low in the sky."