DRIAS Transnat to create up to 50 jobs at new Cardiff office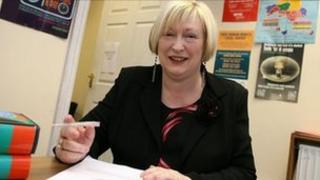 A US-based company hopes to create up to 50 jobs after choosing Cardiff as its first European base.
DRIAS Transnat Ltd, which provides services for insurance companies, said it chose Cardiff because it offered a "rich pool of skilled professionals".
Its centre will be at the Celtic Gateway Business Park in Cardiff Bay.
Business Minister Edwina Hart welcomed the move, which was supported by £162,000 from the Welsh government's economic growth fund.
She said: "This is believed to be the first such investment from a US company in Wales for more than five years.
"DRIAS is widely recognised in the USA as a premier provider of administrative outsourcing services for insurance companies and the decision to base their first European centre in Cardiff reflects the region's reputation as a centre for financial and professional services."
'Ideal location'
Cardiff is the only UK city to have a dedicated enterprise zone for financial and professional services, following an announcement last year.
It is the company's first expansion outside North America.
It will create 30 jobs initially, and hopes to expand to 50 staff within two years.
Company president Dick Votel said: "DRIAS chose Cardiff as the ideal location for its European business after considering a number of countries across Europe."
He welcomed support from the Welsh government and Cardiff council, adding: "In Cardiff's fast growing city region we found a rich pool of skilled professionals supported by academia."
Based in Minneapolis, Minnesota, DRIAS administers life and health policies for insurance companies.