Nikitta Grender murder: Jury must use heads not hearts says judge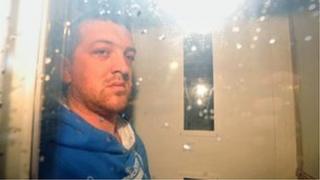 The judge in the trial of a man accused of murdering a heavily pregnant teenager told jurors to use their heads not their hearts in reaching a verdict.
Nikitta Grender, 19, was found stabbed after firefighters were called to her home in Newport, south Wales, last year.
She had been due give to give birth within a fortnight to a baby girl.
Carl Whant, 27, of Bettws, Newport, denies murder, child destruction, rape and arson.
Judge Mr Justice Griffith William has started summing up the trial, which has lasted more than a month at Newport Crown Court and heard from more than 50 witnesses.
He said: "Nikitta Grender was a pretty young woman who was facing the imminent prospect of motherhood.
"Her death shocked and upset many people and attracted a great deal of media attention at the time and since.
"There was, and remains, a considerable amount of sympathy towards Nikitta's family, but you must put this out of your mind.
"Your decision must be reached on the evidence alone."
Miss Grender's charred remains were found by firefighters at her flat in Broadmead Park, Lliswerry, Newport, on 5 February 2011.
The alarm had been raised at around 07:30 GMT that day by a neighbour living below, though it is thought the "slow burning" blaze may have started up to three hours beforehand.
A post-mortem examination revealed Miss Grender's throat had been slashed and her abdomen had been stabbed.
Scratch marks
Forensic scientists said the teenager was dead before the fire, which also claimed the life of her pet dog, started.
Mr Whant, a former nightclub bouncer, was arrested four days later.
DNA findings revealed Mr Whant had had sex with Miss Grender and scratch marks were identified on his right wrist.
The prosecution said Mr Whant killed Miss Grender after he left a house party he had been to in Corelli Street with Miss Grender's boyfriend, Ryan Mayes, at around 05:00 GMT.
Gregg Taylor QC said Mr Whant received the scratch marks as Miss Grender had attempted to fight off the defendant.
In his summing up, Mr Taylor reminded the jury Mr Whant's DNA was found inside Miss Grender's body; her blood was found on his clothing and in his car. CCTV also showed the defendant driving near to the murder scene that morning.
In response to Mr Whant's claims he had consensual sex with Miss Grender, just hours before her death, at the invitation of her boyfriend, Mr Taylor added: "I submit to you members of the jury Carl Whant will say anything if he thinks it helps him."
Prosecution witnesses during the case included Mr Mayes, Whant's girlfriend, Rachel Bird, as well as senior police and fire officers.
But defending Christopher Kinch, defending, said the prosecution's case was not overwhelming and largely based on circumstantial evidence.
He said the small blood specks found on Mr Whant were not consistent with a violent stabbing.
'No urgency'
Mr Kinch added that Mr Whant had been more likely to have come into contact with her blood, after the defendant "had sex" with Miss Grender the previous day.
He also questioned that if Mr Whant was the killer why he had "shown no sense of urgency", in not washing the clothes he was wearing that morning until the previous evening - and also willingly handed over the items to officers.
Mr Whant took the stand during the trial and explained he initially denied having sex with Miss Grender was because he did not want his girlfriend to break up with him.
During his summing up, Mr Justice William said the jury should not base their decision on what evidence was not presented before the court.
He also urged them to consider each charge separately and that the onus was on the prosecution to prove the defendant's guilt, and not for the defence to prove his innocence.
Mr Justice William further advised the jury that a key area of the trial was the issue of timings.
The prosecution said CCTV evidence proves there was enough time for Mr Whant to have driven over to Miss Grender's flat to kill her, while the defence contested this.
"The timings are going to be one of the central issues of the case," said the judge.
"You will want to consider this evidence with particular care."
The case continues.