Council prayers: Cardiff moves worship before meetings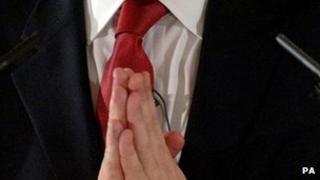 Wales' biggest council has decided to hold prayers before the start of meetings to comply with a High Court ruling banning them from the agenda.
But Cardiff councillors will not be obliged to attend worship.
It comes after UK Communities Secretary Eric Pickles decided to fast track a law aimed at overturning the judge's ruling.
But the new law only applies to English councils and Cardiff council said it "does not wish to act unlawfully".
Cardiff council said party group leaders had agreed prayers should be held before the start for those members who wanted them.
The High Court ruling this month found councils in England and Wales had been acting unlawfully if they included prayers as a formal part of the meeting.
'Political correctness'
Mr Justice Ouseley ruled that Bideford Town Council in Devon had been unlawful because there was no statutory power permitting prayers to continue on its agendas.
Mr Pickles has called the judgement "illiberal" and said he was bringing forward the "general power of competence" in the Localism Act 2011 as a blow against "modern-day political correctness.
The power enables councils in England to legally to do anything an individual could do unless specifically prohibited by law.
But it does not apply to local authorities in Wales, although the Welsh government does have the power to legislate in this area.
In a statement, Cardiff council said: "As the general power of competence in the Localism Act recently approved by Eric Pickles does not apply in Wales, prayers at council meetings are still deemed to be unlawful following the recent Bideford judgement.
"As Cardiff council does not wish to act unlawfully, following a discussion between party leaders, the decision was made to hold prayers prior to the summonsed start of the council meeting in the council chamber for those councillors who wish to be present."