Porthcawl high street 'bucks downturn trend'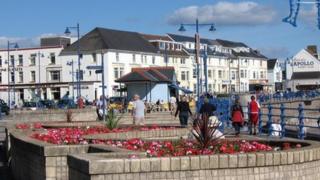 Wales is in the midst of high street crisis according to recent reports, and there are plenty of stories to be found on this website alone which paint a gloomy picture of shops closing and town centres dying.
But take a walk around the seaside town of Porthcawl and a casual observer might be forgiven for thinking the resort is enjoying something of a trading boom.
A cluster of smart, boutique-type shops have opened in the past few months in a town centre side street, and a number of other fairly recent start-ups have expanded.
Two of the new shop owners on the block are Austin Henderson and Jake Easterbrook, proprietors of Tuffnell Hill in Well Street, which sells natural skincare products.
The lotions and potions for sale are not cheap and are at first glance an unusual choice for a small town shop opening in the midst of a big economic downturn.
The pair, who bought a company in France to enable them to make their own brand products and as a result also have a store in Paris, believe they can make a go of it in the town as long as, to use their own words, they "don't put all our eggs in one basket".
Mr Henderson said: "We were very surprised with the amount of trade we did [when the shop opened] in November, which was above what we'd forecast.
"While these are premium products, people like to come in and treat themselves. We'd say we're at the bottom end of the luxury market in price terms, and we do stock less expensive products in the back of the shop."
He said their trade at the time being was very much based on local and returning customers, which he acknowledged included people from surrounding towns, rather than being dependent on one-off day trippers.
Mr Easterbrook explained that the company was also in the process of setting up a website to sell online, and also sold wholesale from their French company, so were not totally reliant on sales through the door at the shop in Well Street.
A few doors down, fellow November openers Once Upon a Time are offering wedding and party services as well as a range of bakeware, crockery and Cath Kidston-style trinkets.
In a similar way to Tufnell Hill, the shop is also part of a business offering services in addition to straightforward on-street retail.
Nearby Icon, a baby and toddler clothing store, was in the process of moving stock to a recently vacated premises on the seafront and was planning to retain the present site as well to offer a range of clothing for older boys.
However, it was not all good news on Well Street. Ambience, a home furnishings shop which had been in the town for nine and a half years was selling off stock and retreating to its other base in the Vale of Glamorgan town of Cowbridge.
The reason? "Footfall is down."
Round the corner on the town's main shopping centre of John Street, Michelle Smith, co-owner of jewellery, accessories and clothing store Divine, was upbeat about the future after just 15 months of trading.
Previously in banking, Ms Smith set up the company with her sister-in-law Marie Jones and moved from their first site next door into their present larger premises.
Ms Smith started off doing party planning and corporate events where they would sell their jewellery but they were getting "ridiculously busy" and had many requests from customers asking where they could find their products at other times.
They have since opened three more shops in Cardiff Bay, Cardiff Airport and Narberth, Pembrokeshire.
She said: "It was a big risk starting up in a recession but we feel if we're keeping our heads above water in a recession then we'll be ok when we come out of it.
"We're very cautious about trying to keep things steady.
"We started off quite reasonably priced and people could just pick up and buy quite easily.
"2011 was tough. There was a definite shift in footfall. Then we moved in August and the shop has become far more profitable than it was previously."
Ms Smith said people had been spending less, but towards the end of the year things started to pick up a bit.
She hopes further planned regeneration of the town combined with working together with other traders would help bring more people to the town, but added: "We have got a regular customer base and people coming back to us all the time.
"We need our locals to shop here."
Fifth generation
At the other end of the longevity scale is Walters' Shoes, found in the heart of John Street.
Jo Richards and her cousin Jane Hunt are the fifth generation of the Walters' family to run the business, which opened originally as a general goods store in 1875 before specialising in quality footwear.
They attribute the town's resilience in recent years to a number of contributing factors, some of which have followed on from improvements to the town's facilities and appearance in recent years.
New cafes and food kiosks have appeared along the seafront, and while the town was always a traditional summer holiday destination, now weekends throughout the year see streams of day trippers coming to the town for even the faintest hint of winter sun.
Ms Richards said that, compared to years gone by: "Porthcawl seems to be more a destination just for a walk along the prom. The extension of the prom [from the town centre to Rest Bay half a mile away] has brought lots of people to Porthcawl.
"Sundays can be quite a good [trading] day."
She said the upgrading of the caravan park at Trecco Bay after it was taken over by Parkdean meant it was also attracting different types of visitors to previous years, who tended to be more affluent.
"The Seabank hotel [which has also been refurbished] brings in coaches of people from all over the country. Midweek, we get a lot of groups in. They all seem to be our sort of customer," Ms Richards added.
There are plans to develop the car park and dockside area, including a new Tesco store and other retail outlets.
While the traders were cautious about a potential drain away from John Street if the development was not handled appropriately, they acknowledged that it could draw more people into the town.
Rhiannon Kingsley, town centre manager of Porthcawl, said: "It's definitely bucking the trend. We are getting independent shops opening quite regularly."
She explained the town has partly been shielded from the economic woes of other high streets because it was mainly composed of independent retailers so it was less affected by chain store closures.
Ms Kingsley added that although shops did come and go, vacant premises tended to be filled quickly, not leaving the rows of empty stores seen in other town centres.
'Few more wealthy people'
Whilst Porthcawl is certainly not immune from shop closures, figures from Bridgend council show the number of vacant premises in the town more than halved from 23 in 2005 to 11 in 2010.
Sadly for the town, and in part proving Ms Kingsley's theory, the local branch of seconds store chain Trade Secret had just announced it would be closing down quickly.
Paul Fielding, president of Porthcawl Chamber of Trade, said the picture in the town was mixed, with some traders struggling with what he termed "ridiculous rents" in the main streets.
However he continued: "I think by and large we're doing better than Bridgend, which is in a real mess, and Maesteg is suffering too, neither of which have a chamber of trade anymore.
"We're fortunate in Porthcawl in some respects that we have got a few more wealthy people than other parts of south Wales. But people often forget that we also have a council estate here."