John and Patricia Bonthron receive MBEs for fostering over 100 children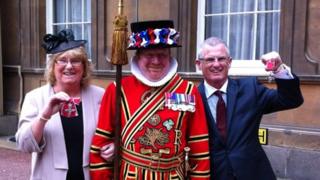 A couple who have fostered more than 100 children over the past 30 years have received MBEs at Buckingham Palace.
John and Patricia Bonthron, aged 72 and 71, from Ynysddu, Caerphilly, were given their awards for services to children in the New Year Honours list.
The pair still give respite care and will be joined at the palace by their son, daughter and one foster daughter.
"We're not planning to give up any time soon," said Mrs Bonthron.
The couple began fostering when they moved from London back to Mrs Bonthron's native south Wales.
"We opened a nursery and then decided to move into fostering because we had a love for children and wanted to be able to give them a start in life," she said.
"It wasn't hard to get into it back then because they were desperate for foster carers."
Since Mr Bonthron gave up his job as a long-distance lorry driver due to ill health 10 years ago, the couple have worked as a team, said Mrs Bonthron.
Recently they have looked after three-month old baby twins and a boy aged five.
'A little nervous'
"When we work together it's easy," she said. "We're going to carry on giving respite and short-term foster care as long as we are fit and able."
Mrs Bonthron said her and husband were a little nervous about their Palace appointment, but were delighted to be accompanied by son Andrew, daughter-in-law Lynn, daughter Davina and 16-year-old Chloe, who has been their foster placement for the past nine years.
"They have all been involved over the years," said Mrs Bonthron. "We'll have a bit of a celebration afterwards.
"We've contacted a number of the foster children we've kept in touch with and told them about the awards and they were very pleased.
"We have a big extended family now. It's very expensive at Christmas time."
Speaking after their appointment, Mr Bonthron said the experience of going to Buckingham Palace had been surreal.
"Prince Charles was very nice, and he made us feel at ease," he said. "He asked us how many children we had fostered."
Andrew Bonthron said he was very proud of his parents.
"They asked me early on, when I was 10, whether I could see a problem with them fostering but as far as I was concerned it was good to have someone in the house to interact with," he said.
"They've always struck a good balance in terms of involving foster children in our family.
"They're not treated as foster children, just brothers and sisters and part of the family."