Fake barrister David Evans wore gown and wig at court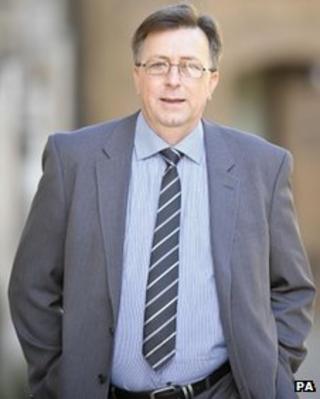 A 57-year-old man who pretended to be a qualified barrister at crown court was found out after admitting he had no legal qualifications.
David Sydney Evans, of Penarth, Vale of Glamorgan, walked into the advocates' room at Plymouth Crown Court wearing a gown and wig, and went to the cells to visit a friend he was representing.
But the judge picked up on a series of wrongly made legal points.
Evans was found guilty at Bristol Crown Court and will be sentenced this month.
The jury was told he had previous convictions for a similar offence.
He had held consultations with patients at a Carmarthenshire hospital pretending to be a clinical psychologist.
Evans was serving a sentence for obtaining money by deception when he met cannabis producer Terry Moss, who was "desperate" for someone to help him after sacking his legal teams.
The court head that Evans, who had no legal training, claimed he was trying to help his friend by representing him as "lay counsel" during a complex proceeds of crime case.
But Evans sent a number of headed letters to Truro and Plymouth crown courts while he was still in prison stating he was a "senior advocate", the jury was told.
He also made legal applications, asked for time extensions and adjournments, and sent a skeleton legal argument to the prosecution.
The court heard he asked Moss's sister to buy him a solicitor's gown and barrister's wig before appearing in front of Judge Stephen Wildblood QC in Plymouth on 17 August 2010.
'Barrister wig'
Kenneth Bell, prosecuting, said Evans was "not naive" and had repeatedly pretended to the court that he was a trained barrister.
"He knew perfectly well that he was not entitled to go to court, put on a solicitor's gown, put the collar and the bands on, put the wig on and stand in court to represent Mr Moss, but he did so," Mr Bell said.
"At no time did Judge Wildblood know that Mr Evans was unqualified, he only found out after persistently asking Mr Evans to tell him about his qualifications."
Giving evidence in Bristol, Judge Wildblood told the court Evans had made a series of legal assertions which were "wrong in an elementary way".
Judge Wildblood also said Evans's appearance had struck him "immediately as strange".
"I believed Mr Evans to be a member of the Bar so to come in to see someone in a solicitor's gown and a barrister wig struck as a surprise," he said.
The judge made inquiries but found no record of Evans.
When he asked him what his legal qualifications were, Evans admitted he had none.
Evans had been caught out, but was allowed to remain in court as somebody who could assist a defendant in representing themselves in court.
Moss had already been jailed for four-and-a-half years after admitting growing cannabis at his home in Cornwall and was facing a proceeds of crime hearing.
The jury was told the Plymouth hearing was adjourned until October 2010, when Moss had £70,000 removed from his assets.
Evans was found guilty of carrying out a reserved legal activity when not entitled and wilfully pretending to be a person with a right of audience.
Clinical psychologist
He was released on bail to reappear at Bristol Crown Court on 26 March for sentencing.
Evans had befriended Moss in Dartmoor prison while serving time for various offences of obtaining money by deception.
He dishonestly obtained services from Werndale Hospital, near Carmarthen, where he held eight consultations with four different patients pretending to be a clinical psychologist.
He had previously submitted a CV to the hospital stating he had nine GCSEs, a masters degree in psychology and previous employment with North Devon District Council.