Newport indoor market: Council approves £750k development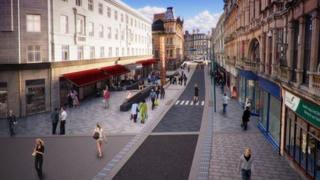 Plans to give a £750,000 facelift to Newport's Victorian indoor market have been given the go-ahead by the council.
The city's planners backed the proposals to boost the High Street with a "vibrant and inviting" new market frontage and the creation of a food quarter.
A report found footfall in the original part of the Grade II listed building has declined over the recent years.
The proposals will now be considered by the Welsh government.
The redevelopment, part of a wider £2.6m plan by the council and regeneration firm Newport Unlimited to attract more people into the city centre, was first revealed in June last year.
At the time Ed Townsend, the council's deputy leader, said the indoor market was "a valued feature of the city centre".
But he said it was situated in an area which had suffered since the main shopping focus had shifted to Commercial Street and John Frost Square.
Terraces and seating
Under the plans a number of units on the High Street would be combined to create a single, large space for food and drink use.
The existing market building front would be given new windows and doors, its entrance would be relocated and enlarged, and terraces and seating would be created on the High Street.
Opposition to the scheme was raised in the form of a letter to planners saying it was "unnecessary during these times of austerity" and that the inconvenience caused by the proposed work could lead to market stall traders losing business.
The current market building dates back to 1864.