Barry power station to stay open, but jobs will go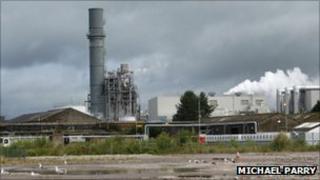 A power station in the Vale of Glamorgan which a union had claimed would close is to stay open, but jobs will be cut.
Staff at Barry Power Station have been told that it will continue, but 12 of the 32 employees will go.
The owner Centrica said such plants are facing "challenging economic conditions".
The company said it had secured a contract to continue to provide power at the gas-fired plant.
The job cuts are due to be made by May.
In October 2011 the union Prospect has claimed the station was facing closure.
Sarwjit Sambhi, Centrica director for power generation, has now said: "Our older, less efficient, power stations are facing very challenging economic conditions as a result of high gas input prices."
He said the company had secured a contract for the power station to provide peak power, although a "reconfiguration to the plant means we will require a smaller on-site team".
"Our priority now is to work with our employees who are affected to support them through this difficult time, and help them identify suitable employment opportunities within Centrica or externally," he said.
The power station was opened in September 1998, and bought by Centrica in July 2003 for £39.7m.