Domestic abuse victim helps Rhondda Cynon Taf design service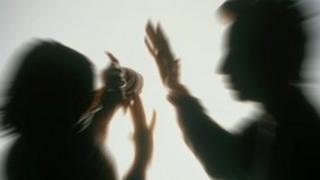 A woman who suffered domestic abuse has helped Rhondda Cynon Taf council redesign and improve help available.
Emma, who was in her 20s with two young children, said she felt let down by the previous system which forced her to have to re-tell her story every time she sought help.
A new one-stop shop in Pontypridd aims to bring different services together.
It will offer more cohesive help to victims who previously had to explain their situation to numerous agencies.
In a previous violent relationship, Emma explained that she had reported her situation to a number of agencies.
That partner was not prevented from harassing her and her children, and was able to send her letters from prison.
When he was released, he was housed two streets away. Emma was offered a place in a refuge miles away from her family and support networks.
'Widespread problem'
Emma was invited to talk about her experience to the various agencies involved in supporting victims of domestic abuse and tell them what changes she felt were needed.
As a result, services for women and men affected by domestic abuse in Rhondda Cynon Taf have been redesigned.
A new drop-in, one-stop shop for victims is opening in Pontypridd next month although help and advice is available now.
People will be able to tell their story once to advisors who will link them with all the services which may be able to help.
Ann Evans, domestic abuse coordinator for Rhondda Cynon Taf council, says that such abuse is a widespread problem and victims must feel able to come forward to get help.
"One in four women will experience it at some point in their lifetime and one in six men will experience it," she said.
"People need to be confident that when they do decide that they want some help, that it will be there for them, that they won't be sent to different places or be told that there's nothing we can do.
"The centre is open access and it's about helping them. It's not about us telling them what they ought to do. It's very much their choice."
Coun Paul Cannon, the council cabinet member for community safety, says he is pleased the new centre will allow different services to work together.
'Shining example'
"I have a police background and I've never seen integration to the extent that there is now.
"Certainly 20 or 30 years ago the police did one thing, somebody else did another.
"Now everyone is coming together under one roof to deliver an absolutely first class service and I think this is a shining example."
Emma is now free from domestic abuse and planning to start a university course in the autumn.
The one stop shop at Ty Ashgrove, Upper Church Street, Pontypridd opens to the public on 2 April 2012.