Cardiff water slide benefits cheat forced to sell home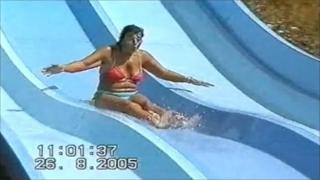 A woman jailed for benefits fraud after being filmed going down a water slide has been forced to sell her home, a court has heard.
Annunziatina Attanasio, 51, from Cardiff, was sentenced to 10 weeks at the city's crown court in December.
She was ordered to repay £16,403 and a proceeds of crime hearing was told she would sell her home to find the cash.
Attanasio, of Whitchurch, had admitted claiming nearly £20,000 in benefits intended for severely disabled people.
She had wrongly claimed disability living allowance between August 2005 and February 2010, Cardiff Crown Court heard.
Benefits fraud investigators caught her when a former partner gave them video of her holiday activities in August 2005.
She was filmed walking normally, as well as going down the slide on holiday in France six years previously.
At her sentencing, the court was told she was claiming the highest level of disability living allowance, meant only for the most severely disabled people, when the video was shot.
The court heard how Attanasio had claimed she was "too weak to walk any significant distance" without crutches.
The film also showed her easily climbing out of the swimming pool.