London 2012: Torchbearer Samantha Hunt 'gobsmacked' at call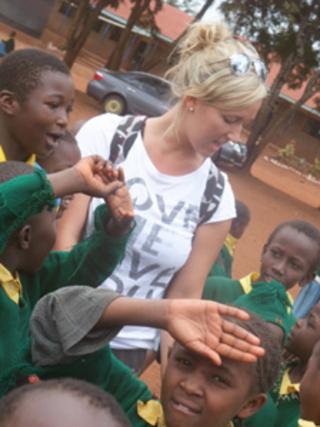 Samantha Hunt began fundraising in her teens and last year won £100,000 on a TV quiz show before giving half of it away to charity.
The 21-year-old has focused her attention on helping youngsters in central Kenya but even she admitted she was "gobsmacked" at being chosen to carry the Olympic Flame.
Samantha, from Newport will be a torchbearer in the Cardiff stage of the relay which is touring Wales from 25-30 May, after being nominated by her mum Sarah.
"I'm over the moon," she said. "It's such a nice feeling but I am a little bit nervous."
Samantha, who is studying for a degree in primary education, started fundraising at 16 - following the lead of her older sister - and she helped build an orphanage in Kenya.
She said she came back feeling "like a completely different person" and has raised thousands of pounds over the last five years while helping renovate a rescue centre for street children in Embu, central Kenya.
And in June last year Samantha was a contestant on TV game show Deal or No Deal where she donated half of the £100,000 she won to the charity she had been working with.
"A lot of people don't understand it," she said. "I could've kept it all, but it's not until you're in that position that you realise how rewarding it is.
"It will change thousands of people's lives."
Her mum Sarah described her as a "incredible" in the successful nomination.
"Sam is an true inspiration to many because of her incredible generosity and selfless attitude," she said.
"Everyone who hears her story is flabbergasted that at the age of 20, she gave £50,000 of her own money away like that - people young and old have been inspired by her generosity and strength of character.
"Carrying the flame would be an incredible tribute to a young girl who has done so much to change so many lives and is still only 21."
Torch relay road route in Wales
25 May: Worcester to Cardiff via Monmouth & Pontypool
[54KB ]
26 May: Cardiff to Swansea via Treorchy & Pyle
[57KB]
27 May: Swansea to Aberystwyth via Llanelli & Fishguard
[57KB]
28 May: Aberystwyth to Bangor via Dolgellau & Pwllheli
[50KB]
29 May: Beaumaris to Chester via Llandudno & Rhyl
[51KB]
30 May: Chester to Stoke via Wrexham & Welshpool
[66KB]