Gilfach Fargoed rail cable theft causes severe delays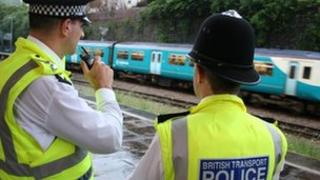 Rail passengers in Caerphilly are facing severe delays after 300m (984ft) of railway cable was stolen.
British Transport Police (BTP) said the theft, from a section of track, was reported at 05:48 GMT at Gilfach Fargoed railway station on Tuesday.
It caused signal failure on the Rhymney Valley line and engineers are working to repair the damage.
Scrap metal dealers are assisting BTP with inquiries. Anyone with information is asked to contact officers.
A BTP spokesman said: "The incident has caused disruption to passengers and the rail network, with services in the area experiencing severe delays.
"We continue to work closely with Network Rail as part of our investigation into this incident."
Network Rail said the theft had caused 500 minutes of delays across 22 services travelling to and from Cardiff by late morning, with further delays expected.
Mark Langman, route managing director for Network Rail Wales, said: "The cable theft incident on the Rhymney Valley line has resulted in a very difficult journey and a lot of frustration for passengers who travel on the line today.
"Cable theft and other forms of vandalism are serious crimes with significant consequences.
"These criminals continue to deny passengers the service they rightly expect and, through the massive cost to the industry, deny everyone improvements to rail services."
Arriva Trains Wales said a replacement bus service was in place at Bargoed and Ystrad Mynach, but services across the Valley Lines network were subject to minor delays of between five and 10 minutes.
Affected passengers are advised tocheck before travelling.
Anyone with information about the incident is asked to call 0800 405040, quoting incident reference 46, 20/03/13.