Tin shops zone: Revamp for first Sidoli cafe site in Caerau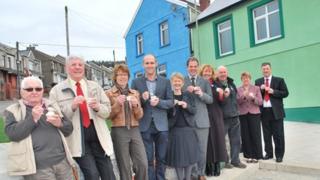 A run-down south Wales area which was home to the original Sidoli ice-cream parlour has had a makeover highlighting its commercial and social history.
The "tin shops" zone in Caerau, Maesteg, has been transformed from dilapidated shacks to a brightly coloured row of refurbished buildings.
The Sidoli family-run ice-cream parlour later relocated to Porthcawl.
The land housed a railway station, cenotaph and shops at various times, but became abandoned and dilapidated.
The colourful refurbished buildings stand against a backdrop of new landscaping, trees and planting and a traditional postbox.
Working alongside artist Anne Gibbs and Communities First, members of Caerau's Youth Club and local residents researched the history of the Tin Shops with those who could remember them.
They created a series of handmade tiles reflecting the history and traditions of the area.
The tiles remember the original Sidoli's ice-cream parlour, Bessie Morgan the Draper, Ernie Davies the newsagent and Isaac the Butcher.
Regeneration officer Aled Singleton said the original Sidoli's had started just around the corner from the Tin Shops in the 1920s and then had swiftly expanded to larger premises on the site itself.
Luigi Sidoli, the manager of the two Sidoli cafes in Porthcawl, which first opened in the 1950s, accompanied his father Pietro to the official unveiling of the work in Caerau.
Mr Sidoli said his grandfather moved to Wales from Italy before World War I and worked for other Italian families around the valleys before saving enough money to open his own place, the Station Cafe, in 1927.
Pietro Sidoli and his brother Frank moved to Porthcawl in the 1950s to set up the cafes, which became a well-known feature of the seaside resort and are still going strong, while another brother opened a cafe in Maesteg.
Luigi Sidoli told BBC News: "My dad always had fond memories of up there. In those days he used to go in the horse and cart, selling the ice cream. He used to go up and down all the streets.
"It took him back, this morning. It was lovely to see how they've done it all up. He was so proud."
Phil White, Bridgend council's communities cabinet member, said: "I'm especially pleased that our young people have been heavily involved in the art work and the local research.
"I'd like to think that their children's children will one day enjoy the story of this project in the way these young people have discovered the area's history.
"Thanks to them and this partnership the tin shops and the great characters associated with them have really been brought back to life."