'Fire hazard' tyres removed from site at Newport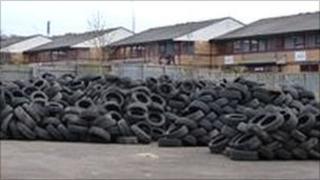 Almost 5,300 tyres have been removed from an illegal site in Newport because they had become a fire hazard, says Environment Agency Wales (EAW).
Contractors took nearly two days to clear the site, and the agency said it intended to recover its costs through prosecution.
An enforcement notice was served on the operators but they failed to remove the tyres, said EAW.
Officers attended after a tip-off from an EAW staff member.
Rhys Hughes, of Environment Agency Wales, said: "Legitimate landowners are often left with the bill by the criminals who operate illegal sites.
"We encourage landlords and agents to always check with us before letting out property to anyone who deals in waste.
"If anyone suspects an environmental crime is being committed please report it to us on our hotline, 0800 807060, and we will investigate it."