Rail cable: Deterrent hope as Christopher Mansfield jailed for £20,000 theft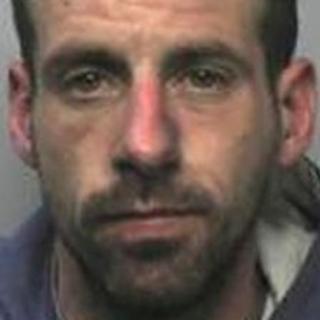 British Transport Police (BTP) say they hope tough penalties will deter railway cable thieves after a man was jailed for three years and nine months.
BTP spoke out after Christopher John Mansfield, 33, of Newport, admitted stealing £20,000 worth of cable over a two-month period.
Officers said his actions caused massive delays and disruption to the rail infrastructure.
The cost of cable theft to the railway industry is put at almost £20m a year.
At Cardiff Crown Court Mansfield had admitted offences in Maesglas and Duffryn between 8 December 2010 and 6 January 2011.
Det Con Chris Bolton said the theft also resulted in the loss of hundreds of thousands of pounds in revenue and fines.
BTP said Mansfield was sentenced to a total of 45 months in prison - 27 months for three offences committed in December 2010 and January 2011, and a further 18 months for an additional offence which formed part of a separate investigation.
"Crime which involves the theft or attempted theft of railway cable attracts strong penalties and I hope the sentence handed to Mansfield will act as a deterrent to others," said Det Con Bolton.
He said it was a common but wrong assumption that cable theft was a victimless crime.
The impact on the running of the railway was huge, and many thousands of passengers were inconvenienced by it each year, he added.
Stealing railway cable also carried the risk of serious injury or death through electrocution, he said.
Mark Langham, route managing director at Network Rail Wales, said: "It's a huge issue and one which all affected industries are committed to tackling - but we can't do it alone.
"We need to see tougher sentences for cable thieves in the courts and police must be given powers to shut down the rogue scrap dealers who are profiting from the travelling public's misery," he said.