Cardiff man in Beachy Head death on bail over indecent images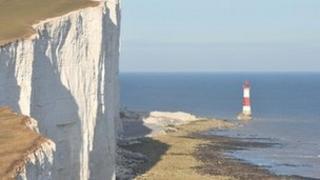 A Cardiff man found dead at Beachy Head in Sussex near the body of an elderly woman had been arrested on suspicion of possessing indecent images.
South Wales Police said the 58-year-old was arrested on Monday, two days before his body was found at the cliffs.
The man, from the Cathays area of the Welsh capital, had been released on bail while further inquiries were made.
Police have not released the identity of the man, nor the 81-year-old woman, who was also from Cardiff.
Sussex Police believe the man and woman may have stayed locally on Tuesday night.
They arrived at Beachy Head in a black Vauxhall Vectra at about 08:30 GMT on Wednesday, and it was found in the car park at the top of the cliffs.
The man's body was seen at about 11:15 GMT by coastguards, and while recovery arrangements were being made the woman was found nearby.
Released on bail
South Wales Police have now said that on Monday, 19 March, a 58-year-old Cardiff man was arrested on suspicion of possessing indecent photographs.
In a statement, police said: "He was released on bail pending further inquiries.
"Following a recent incident in Sussex, the matter has been brought to the attention of the Independent Police Complaints Commission."
Sussex Police have appealed to any witnesses who saw the man and woman before they died.
Anyone with information is asked to call Sussex Police on 101, quoting serial 589 of 21/03.