Pretend barrister David Evans jailed for 18 months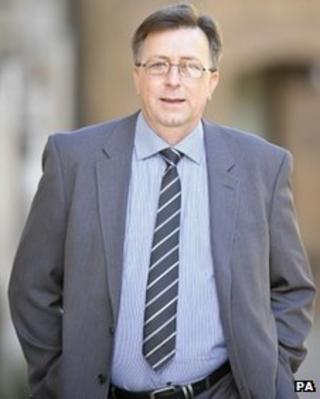 A man who pretended to be a qualified barrister in court to represent a friend he met in prison has been jailed for 18 months.
David Sydney Evans, 57, of Penarth, Vale of Glamorgan, walked into the advocates' room at Plymouth Crown Court wearing a gown and wig, and went to the cells to visit the friend.
But the judge picked up on a series of "hopelessly wrong" legal submissions.
He was previously convicted for pretending to be a psychologist.
Evans was found guilty at Bristol Crown Court earlier this month of the latest offence.
He had been serving a sentence for obtaining money by deception at Dartmoor prison when he met cannabis producer Terry Moss, the man he tried to represent during a proceeds of crime hearing.
The court heard he asked Moss's sister to buy him a solicitor's gown and barrister's wig before appearing in front of Judge Stephen Wildblood QC in Plymouth on 17 August 2010.
A jury unanimously found Evans guilty of carrying out a reserved legal activity when not entitled and wilfully pretending to be a person with a right of audience.
Sentencing Evans, Mrs Justice Laura Cox DBE told him: "The evidence showed you manipulated him.
"The planning of this enterprise was entirely yours, it was your decision to style yourself as a senior advocate.
'No remorse'
"You took advantage of Mr Moss who thought you were a genuine person.
"You are a complex and clearly intelligent man... you have a grandiose sense of self-importance.
"You have exhibited no remorse and you have no appreciation that you did anything wrong."
While purporting to represent Mr Moss, a written agreement was made between the men stating Mr Moss would pay Evans £1,000 a month for his expenses and overheads.
Mrs Justice Cox said she was "satisfied" financial gain had formed part of Evans motivation for trying to represent Mr Moss in court.
Evans, who had no legal training, had sent a number of headed letters to Truro and Plymouth Crown courts while he was still in prison stating he was a "senior advocate".
In one letter he claimed his office would be "closed" until 12 July 2010 - the date he was due to be released from Dartmoor prison.
Evans made several legal applications, asking for time extensions and adjournments and also sent a skeleton legal argument to the prosecution.
During the trial Kenneth Bell, prosecuting, said Evans was "not naive" and had repeatedly pretended to the court that he was a trained barrister.
'Stunned'
"He knew perfectly well that he was not entitled to go to court, put on a solicitor's gown, put the collar and the bands on, put the wig on and stand in court to represent Mr Moss but he did so," Mr Bell said.
Giving evidence, Judge Stephen Wildblood told the court Evans had made a series of legal assertions which were "wrong in an elementary way".
The judge, who sits in Truro, Plymouth and Exeter crown courts, went on to make inquiries of the Law Society and the Bar Council, which covers barristers, but found no record of Evans.
When he asked the man before him what his legal qualifications were, the judge told the court he was "stunned" when Evans admitted he had "none".
It was after this that Evans was exposed and arrested by police.
Huw Evans, defending, said Mr Moss, having sacked two separate legal teams, was "desperate" for someone to represent him and Evans was simply trying to help a friend.
"Whatever psychological motives he (Evans) might have had, this was a man with an intellectual ability that was greater than those around him who was using his time to help them," Mr Evans said.
But the court heard that between 1978 and 2005 Evans had been convicted of 16 offences involving theft and fraud.
In 2005 he dishonestly obtained services from Werndale Hospital, near Carmarthen in west Wales, where he held eight consultations with four different patients pretending to be a clinical psychologist.
He had previously submitted a CV to the hospital stating he had nine GCSEs, a masters degree in psychology and previous employment with North Devon District Council.
Mrs Justice Cox said this was an aggravating factor when it came to sentencing for Evans' latest crime.
"You were convicted of two offences which reflected your sustained, deliberate and dishonest actions over the course of several months," she added.
"You carried on the conduct of litigation on behalf of Terry Moss, appearing as an advocate on his behalf at the crown court when you were not qualified or authorised to do so.
"What you did was very serious and furthermore these offences are seriously aggravated by your previous conviction in 2005."