Bridgend Coalition of Disabled People tell travel firms of daily problems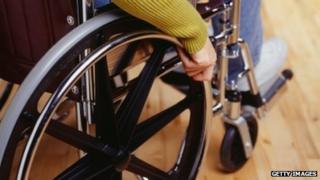 Disabled people are to air grievances about their difficulties using public transport at a meeting attended by bus, rail and taxi chiefs.
Bridgend Coalition of Disabled People (BCDP) said its members faced the daily travel problems highlighted by Baroness Tanni Grey-Thompson.
The Paralympic gold medallist, who has spina bifida, said she had to crawl off a train at King's Cross in London.
BCDP's Simon Green said: "That happens to people on an everyday basis."
Friday's meeting comes as four young disabled people continue a journey around Wales on public transport to mark 40 years of the charity Disability Wales.
The group, which set off from Haverfordwest, aim to highlight problems faced on buses and trains.
BCDP chairman Mr Green said he received a constant stream of phone calls and emails from disabled people recounting the trouble they had faced using or trying to use public transport.
He said: "I use buses daily and train two or three days a week and I've lost count of the number of times I've been left on a train or a bus has not pulled up in the right place.
"Passengers have sworn at me because there's been a bike or luggage in a wheelchair space and I've asked them to move it."
The letters he has received after making a complaint have "not really solved the issue".
'Mystery shopper'
Representatives of First Cymru Buses, Arriva Trains Wales and local taxi firms are due to speak at the meeting at Bethlehem Life Centre in Cefn Cribwr, Bridgend, on Friday.
Mr Green said around 50 people with a variety of disabilities were expected to attend the event to tell the panel about the problems they had faced using public transport.
Cardiff-born Baroness Grey-Thompson, an 11-time Paralympian gold medallist who is a regular commuter to London from north-east England, said: "Lots of disabled people are made to feel second class on our public transport system.
"Disabled people don't want special treatment, we just want to share the same experience as anybody else using the buses or trains."
Bus firm First Group said it had developed a mystery shopper form with disabled people in mind to capture both their good and bad experiences and had also held focus groups with blind and partially sighted people in Bristol.
A spokeswoman said: "We're aware that people want to see low-floor buses and we are working towards that."
Arriva Trains Wales commercial director Mike Bagshaw said: "We regularly meet with groups such as Bridgend Coalition of Disabled People and we hope that by meeting and discussing the challenges associated with access and disabilities, that we will further develop our understanding of the experience of disabled people using public transport in Wales.
"We hope their feedback will allow us to further improve access for those with specific requirements around travel."