Cryptosporidium outbreak on Torfaen farm makes four more people ill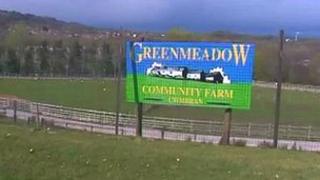 Four more people have been diagnosed with the cryptosporidium bug following the outbreak of the bug on a community farm in Cwmbran, Torfaen.
Eight people, who are all staff or volunteers at Greenmeadow Farm, have contracted the bug since it was identified on 5 April.
All eight had bottle-fed lambs and goats, prompting the animals to be removed.
The bug can cause diarrhoea and sickness but is rarely serious.
Extra measures
Cryptosporidium can also cause stomach pain and nausea, can last for up to a month.
Three children and one adult were previously diagnosed with the bug, which led to an investigation by Public Health Wales (PHW), Torfaen council and the Animal Health and Veterinary Laboratories Agency.
Extra measures are being taken to ensure risks to farm staff and visitors are kept to a minimum.
Local GPs were alerted about the outbreak but they insist it is still safe for people to visit farms.
Dr Lika Nehaul, from PHW said: "There is no reason for anyone to avoid visiting petting farms as long as anyone who has touched animals washes their hands thoroughly immediately afterwards.
"I would like to remind the public that hand washing with warm running water and soap after coming into contact with farm animals is of the utmost importance in preventing infection with cryptosporidiosis and that use of disinfectant hand gels and wipes alone are not enough."
Anyone who is unwell with gastrointestinal symptoms is advised to contact their GP or NHS Direct on 0845 46 47.