South Wales Valleys no easy target for drugs, say police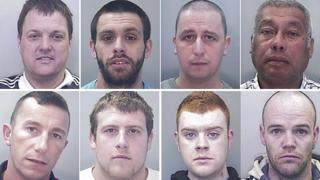 Police behind a year-long operation that has seen a drugs gang jailed for a total of 29 years say it sends a clear message to other would-be criminals.
The gang were convicted on Friday for trying to bring £1.7m in cannabis into the Cynon and Rhondda valleys of south Wales via Spain.
But their lorry was followed back to Mountain Ash and all 11 members of the gang were finally arrested.
Police say cracking the case has stopped "no end" of further crimes.
"That's a major haul of cannabis," add Det Sgt Joe Sweeney, of South Wales Police.
"It's not just the drug itself, it's the devastating affect that has on a community with crime.
"Stopping that has stopped no end of crime - and I'm sure of that," he said.
Six members of the gang were jailed at Newport Crown Court on Friday, including the key co-ordinator of the operation in south Wales, Ryan Davies, who was know locally as 'Mamsy'.
The Ystrad Rhondda offender was given a six-year prison term, which matched that of the London-based gang leader, Keith Dobson.
The court heard that Spanish customs officers tipped off UK police after finding more than 400kg of cannabis resin hidden in pillars being taken from Barcelona to Wales.
The drugs were removed without the knowledge of the smugglers, and the lorry, driven by Barry Roy Butler from Kent, was followed.
'Profound impact'
It arrived at a farm in Mountain Ash a few days later where the drugs gang discovered the police sting.
The driver, Butler, was jailed for five years.
He had been met by drugs dealer Christian O'Reilly, who was jailed for four years, along with Mark Joseph Waugh.
After a year-long investigation called 'Operation Scheat', a total of 11 people were finally convicted, the rest of the gang members coming from Ystrad and Porth in the Rhondda and Aberdare and Mountain Ash in the Cynon Valley.
Geraint Locke, who helped with arranging delivery of the cannabis, was jailed for two years, while Craig Harris, a friend and neighbour of Ryan Davies, was given a 14 months in prison.
Local drug dealer David Clarke was told he must serve a nine-month sentence.
Other members of the gang, including Craig Michael Clarke and Roxanne Morgan received suspended sentences, while Stephen John Davies was given a two-year supervision order.
Continuing operation
Det Ch Insp Paul Hurley said: "I hope this sends a message out to other would-be drug importers and dealers that South Wales is not an easy target.
"Community intelligence tells us that the impact the arrests had on drug supply to the community was profound.
"The community now have an important part to play in providing intelligence about others who may view this as an opportunity to muscle in on the area."
Investigations into the gang are continuing, in a bid to recover assets amassed as part of their crimes.
"We have a team now who will be working hard to chase any assets owned by members of the group which are believed to be funded by the proceeds of their crimes.
"This'll ensure crime doesn't pay," he said.