David Cook guilty of murdering neighbour Leonard Hill, 24 years after killing woman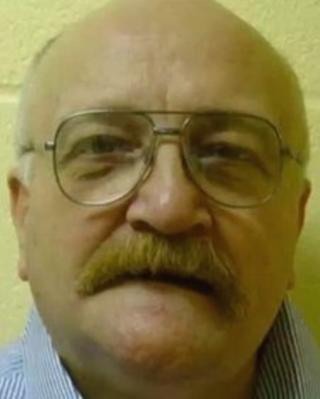 A man who was convicted of killing a Sunday school teacher 24 years ago has been found guilty of a second murder.
David Cook, 65, denied murdering his neighbour Leonard Hill, 64, but had admitted killing him at his flat in Rhymney, Caerphilly county, last June.
Cook, who will be sentenced at Newport Crown Court on Wednesday, said he strangled him with a flex after he was angered by unwanted sexual attention.
Wales Probation Trust has asked for a Serious Case Review on the killing.
During the trial the jury heard heard that Cook was convicted of the murder of a woman in Reading, Berkshire, in 1988. She had been bound and strangled with a ligature.
He was released on life licence in 2009.
It took the Newport jury just over an hour to reach a verdict.
The court heard that Cook ransacked his neighbour's bungalow after the killing, stealing his wallet before going to a nearby pub for a drink.
Cook then went about his business as normal for 12 days while his victim's body decomposed in a bedroom in his bungalow home.
Debt motive
Mr Hill had been bound around his legs and his arms.
The real motive for the crime, the court heard, was Cook's debts.
The prosecution said he was £5,838 in debt by the time he moved to live next to Mr Hill. The court heard that the killing was "deliberate" and there was no loss of control.
Cook's defence team said killing Mr Hill and taking his possessions was not going to clear Cook's debts, so "doesn't provide a motive".
They added that Mr Hill's sexual orientation was a "private and personal matter known only to him".
The court heard that Cook was not in control of what he was doing, and "the other previous murder does not provide a shortcut to a guilty verdict in this case".
In a statement issued after the trial Mr Hill's family said they hoped Cook would now spend the rest of his days in prison.
"We know that this will be no hardship for him but will at least protect any further victims and the pain caused to their devastated families," the family said.
"We have been emotionally scarred by this terrible violent attack on our defenceless brother and feel even sadder as he was due to spend time in Spain with us now and we feel he would have been amazed at life here in the sunshine."
The family said they had "further issues" relating to Mr Hill's murder and were hopeful the Serious Case Review - a process of establishing what lessons need to be learned from the case - would provide some answers to their questions.
Claire Burton, senior crown prosecutor for the Crown Prosecution Service in Wales, said Cook had been convicted of "a most horrific and violent murder".
"Leonard Hill was a quiet, non-confrontational and unassuming man who posed no threat to anyone - least of all David Cook," she said.
'Important questions'
"His murder was the calculated act of a callous and brutal attacker."
Ms Burton paid tribute to the "thorough" work of Gwent Police on the case which had led to his conviction.
She added that her thoughts were with Mr Hill's family and those close to him, who would have to live with the consequences of Cook's actions for years to come.
Gwent Multi-Agency Public Protection Arrangements (MAPPA), which works to manage the risks posed by violent and sexual offenders living in the community, said it welcomed the verdict.
"We acknowledge there are important questions that need to be answered regarding the circumstances that led to Mr Hill's death," said a spokesperson.
"For that reason we are awaiting the results of a serious case review, requested by Wales Probation Trust.
"We await the outcome and welcome any recommendations and learning. For that reason it would be inappropriate to comment further at this stage."
Gwent Police said they hoped the verdict would bring a degree of closure for Mr Hill's family,
"David Cook will now be taken out of society and will not be able to put any other innocent members of the public at risk," said a spokesperson.
The force said its family liaison officers were continuing to provide support to the family.
"We are hopeful that out of this tragic event and the commissioning of the Serious Case Review the risk of an offence committed in similar circumstances is minimised."
Cook will be sentenced on Wednesday morning.